Sometimes, some days, my heart just gets caught up in all of it. In all of the … the mothering. And, I start to forget. I forget the point of it all. I start yearning to hear God's voice. I start aching for … more. I start feeling like I should be doing more of something.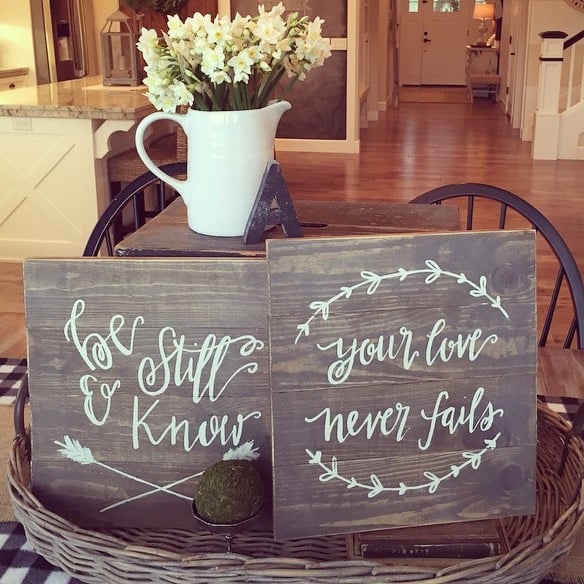 The past few weeks have been harder than most. Full of chaos, tears, tantrums, sickness, teething, messes, more tantrums and just … soooo many needs that must be met. I've felt pushed and stretched and tested. I've felt raw, vulnerable, exposed. I've felt like a big, giant failure. Yes, there will always be days like this. Weeks like this. Days when motherhood will take all that you have to give, and then ask you to give even more. It's easy to get caught up. Lost. That's what was happening. I was starting to lose myself to these types days. Starting to drown in them.
But, then … yesterday happened. The sun was bright and warm against my skin. I had a few minutes to myself (let's be honest, I was going to the doctor, but still … I was alone.) I felt … something more. And then, today happened. Today, my sweet girl (who doesn't like to be held) actually fell asleep in my arms. This is so rare. Sooo rare. She typically pushes me away and reaches for her bed. Yes, honestly. She's only 20 months. It's tragic. I know. So, when she let me hold her for longer than 1.2 seconds, I was immediately in tears. I was in tears and thanking God for this sweet gift. This precious moment to just let go, be still and stare at her. I took in her beautiful baby profile, her flawless skin, her sweet smell, the gentleness of her breathing. Time stood still. Everything got quiet. My mind. My heart. In that moment, I pictured her … I pictured her jumping into crisp, beautiful lake water – feeling the coolness on her skin. I pictured her laying in the grass watching the clouds roll by. Feeling the fresh wind of spring on her face. The spray of saltwater on her warm skin. The butterflies that come with new love. The warm sand beneath her toes. The voice of God within her heart. The feel of her own baby in her strong arms. I just sat there, held her and glimpsed into her future … and let the quietness carry me…
As time started moving again, as I laid her in her bed, I knew I had been given a gift. A moment of stillness with my growing girl. A moment of calm during days of storm. A chance to hear God's voice in my own heart. A confirmation that I've been needing. I've been praying and seeking – wanting to know the plan. The next step. Yearning to understand what I'm supposed to be doing. What I'm supposed to be writing. If this blog should be growing. But, clarity comes … with stillness, clarity comes … and the voice I've been seeking has been trying to answer me all along. "Be still and know that I am God." (Psalm 46:10) Be still. Be STILL. And know. He'll let me in on the next step when it's time. Right now, it's not time. I'm right where I'm supposed to be. This is my season in the sun with the littles. These are short, precious years. "Be still." THIS is what I'm supposed to be doing. Being "Mommy". The rest … He'll reveal it all in time. I can rest in that beautiful knowledge.
XOXO
Side Note: My sweet husband, R, sent me a link to this video and it was exactly what I needed to watch. It's short and sweet … if you want to check it out. I already loved Joanna Gaines from Fixer Upper and Magnolia Homes, but now I love her even more.
Photo Credit: The top photo is from Janna at Yellow Prairie Interior Design. I love following her Instagram page and snatched this photo to share with y'all. Isn't she awesome? Also, the "Be Still" sign, as well as the other, are from The Rustic Orange. The bottom photo is from The Secret Place Ministries.