Watching you by the water, my heart contracts and I feel a deep longing for something I cannot explain. The waves, their steady ebb and flow, fill me with a hopeful nostalgia and a desperate, almost wild, desire to freeze time.
"Stay little…"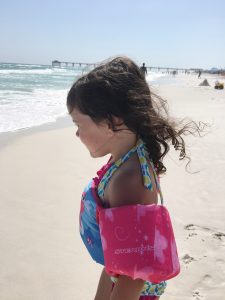 My whisper is lost in the wind, never reaching your ears. Already gone. Sinking and disappearing into the sand of time.
I feel full of joy … and despair. You. My heart. Never mine to keep forever.
I watch you squeal with delight and run away in feigned fear as the water reaches your little toes.
"Oh, you are lovely…"
You glisten brighter than the sun, my child.
I watch you in wonder. Happiness floods my soul at the sight of your pure joy. Followed by a searing pain. The sheer weight of it all crushes down on me.
"I won't remember this…"
The contradiction of emotions brings tears to my eyes as I laugh at your play.
Days upon weeks upon months upon years. Time is the thief of memory.
I force myself back to the present.
"Be in the moment…"
But. First. I try, with all my prayers and might, to capture it. To store it in my heart.
Let me not forget, dear little one, the feel of your little hand in mine…the way you reach for me, so sure that I'll be there to hold you, to steady you, to be your safe place, your great comfort.
Let me not forget the sweet way you whisper "I love you" … your sureness in our love, your deep confidence in me.
Let me not forget the way you look running toward me, your curls bouncing, your eyes sparkling. You want to be near me. Always.
Let me not forget your kisses. So many. All the time. The overwhelming amount of kisses that you feel the need to give. It's almost humorous, often annoying, but sweet and sincere nonetheless.
Let me not forget your urgent goodbyes when we part, full of hugs and love and a bit of unease. "I love you and I miss you and I can't wait to kiss you." Your goodbyes take time and reassurance, but I love them.
"I love you…"
Let me not forget your songs. All the songs that you sing. Your own versions and words. Melodies sung in the sweetest little voice. Carefree and confident.
Let me not forget how you play. The stories I learn by listening to you talk to "your girls." The way you tenderly play mommy to your babies. The way you get lost in front of your dollhouse. A whole world of your own.
"I remember…" A faded memory, stored in the back of my heart…my own similar play from long ago…
Oh, sweet child. If I could just remember all of it. All of you. For all time. Let me not forget.