The weather has been amazing this week. But, as spring rolls in, so do familiar feelings of inadequacy and self-consciousness. I suddenly realize I forgot to turn into a swimsuit model over the winter. Again.
I start worrying about cellulite and knee fat and just my current overall softness. Honestly, it's kinda pissing me off. I feel like giving it all a giant middle finger and moving on. I think I will actually.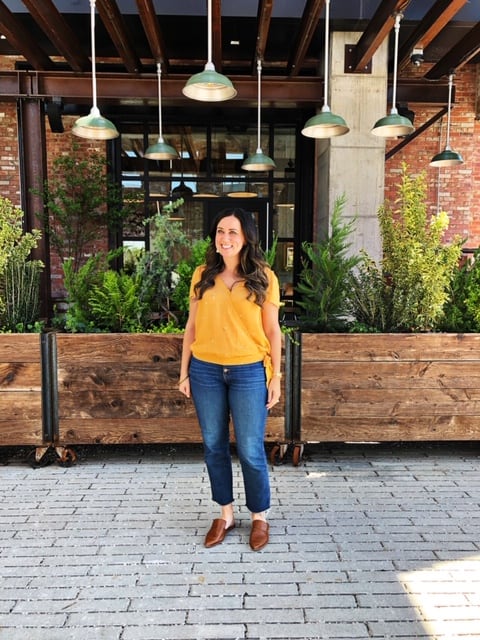 2018 was an interesting year for my body. During a season of anxiety and grieving, I lost some weight and gained some weight, lost and gained and lost and gained again until finally, I ended up heavier than I started. Clearly yo-yo dieting isn't the way to go. Who knew?! It all left me in just a weird place – mentally. And, (maybe because of it – or maybe just because it was time) lately, I've been thinking more and more about body image. Mine and everyone else's. It just seems like we all spend too much time focusing on what we don't like. I for one am exhausted by it all. I don't think it all adds up – the standards our society has set and the diet-culture instilled within us … even from an early age. Ugh. Can we just take a step back for a minute? Breathe. Feel. Think. I, for one, kinda hate dieting. Restricting certain foods or most foods, counting calories, really just all of it – leaves me grumpy, hungry, obsessive and unhappy. Like I just traded my joy in for … for what?! A smaller jean size 🤦🏻‍♀️. Now, please don't take me the wrong way. I'm not trying to climb up on a soapbox and claim that I know exactly what I'm talking about. I'm not saying that I won't ever focus on healthy eating, "clean" eating or eating in a way that makes me feel good, strong and healthy. I'm not saying there's not a place for health-related elimination (I have Crohn's, I know). I'm also not saying that I'll never try to be thinner ever again, that I won't feel self-conscious anymore, that I won't shame myself sometimes. I'm human. You guys. I'm so very, unfortunately, fortunately human. But, I'm working on my mindset. I'm trying to look at it all a bit differently. And, I've realized that restrictive dieting isn't for me. When I'm "following all the rules" on a restriction type diet, I end up fixated on what I can't have and all that I'm supposed to do or not do. I feel guilt and shame when I can't seem to keep up or I "cheat". I over obsess about my body more, not less. I constantly compare. It becomes all I can think about. I can't do that anymore. I DO NOT WANT to do that anymore. It's feels like the exact opposite of the freedom promised. It doesn't feel healthy at all. It just feels like a mental and emotional bully. Yet, it's so, so tricky, because we've been trained so, so well to think that we have to be constantly improving our bodies. We're sold on an "ideal body". Here's what you are supposed to be. Here's what you should strive for. Oh, and by the way, your body should remain forever ____ (insert ideal body age here). Don't let it change with age. Heaven forbid. So, where does that leave us? How do we retrain our brains? I'm honestly not sure. But, I'm trying to figure it out. Slowly. It's a journey.
And, there are a few things that are helping me…
Think about how much our bodies change from ages 1-10. From 10-20. I mean come ON. They change SO much. They change completely. But, they shouldn't change from 30-40-50-60+!? That doesn't actually make any sense, does it. Somehow, just considering how dumb that sounds, makes me feel better.

Pay attention to who/what you follow on social media. What are your eyes/brain consuming? Are you following accounts that inspire you or accounts that make you feel less? When I realized that I was following too many women that were super, super tiny and it was leaving me annoyed and frustrated, I slowly started unfollowing. I found that by viewing a variety of bloggers/influencers of all different shapes and sizes, something shifted. If you constantly see different body types styling outfits that you like and speaking encouragement, your brain starts to normalize the fact that all bodies are different.

Pray. Take the focus off yourself and put it back on God. Remember who HE says you are and not who the devil wants you to think you are. "Don't you realize that your body is the temple of the Holy Spirit, who lives in you and was given to you by God?" [1 Cor. 6:19]. Try to accept and appreciate your body, in all its imperfect glory, with humor and grace. If we can find peace with our bodies, maybe we'll see that who we are in Christ is much more important to our identity than how we look.
We are better than this. We were made for more than this. Let's figure this out together.
Here are a few of the "body positive" Instagram accounts that I am enjoying right now. Each account is quite different. They each serve a different purpose for me. I love the variety on this little list and I'm happy to share them with you …
@hgoodrichrd
@lovealwaysashleyj
@natalieborton
@maddy_gutierrez
@kristamurias
@ditch_the_diet