Easter Decor + Home Accessories
I must confess, Spring is not my home's best season. That's an odd thing to say, I realize, but it's true. My soul (and I suppose therefore my home's soul) just resonates more with the moodier, earthier tones of fall. When it's time to soften my home up and add in cooler tones … I always feel momentarily at a loss. The truth is, I don't really do all that much to Spring-ify … but I'd like to do more this year. 
I'm not a total Spring Scrooge. I do enjoy the warmer (slightly warmer, no need for anything above 80 😉) temps and sunnier skies. I enjoy seeing the trees and flowers begin to bloom. I enjoy the longer days and hearing the birds sing in the morning. I enjoy more time outdoors.
It's just … I know I'm the minority here, but I just can't help but think … if my home were a season, it probably wouldn't be spring …
Nevertheless, it's time to throw open the windows and let some fresh air in … okay, okay, not right now if you live in NC because then your entire home will be covered in pollen. It's time to shed a few layers and release some of that winter-heaviness. It's time to lighten our loads – literally, it's time for a good house purge. Time to spring clean. Time to ready our homes and our spirits for a new season. 
And it starts with Easter … 
Today's Round-Up is all about Easter, so yes, it's a bit heavy on the bunnies … but bunnies are cute so 🤷🏻‍♀️…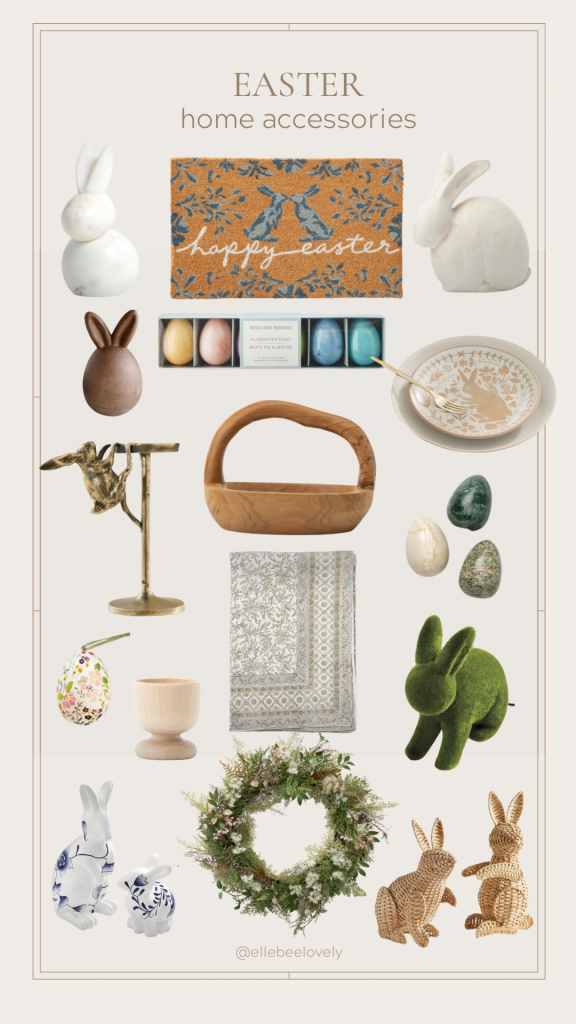 Links: marble bunny, door mat, wooden bunny, concrete bunny, alabaster eggs, bunny plate, bunny candle holder, wooden basket, marble eggs, hanging eggs, wooden egg cup, table cloth, moss bunny, chinoiserie bunnies, wreath, rattan bunny
Happy Spring-ifying! And, soon enough, Happy Easter!

Shop This Post