My sweet girl turned 1 a few weeks ago. I don't think I've fully come to terms with it just yet. I'm just in awe of how quickly this year has gone and how much A has changed and grown. The first year is so FULL OF CHANGE. It's amazing. And, she's amazing. My sweet Little Miss Peachie. In honor of her first birthday, here's my first letter to her …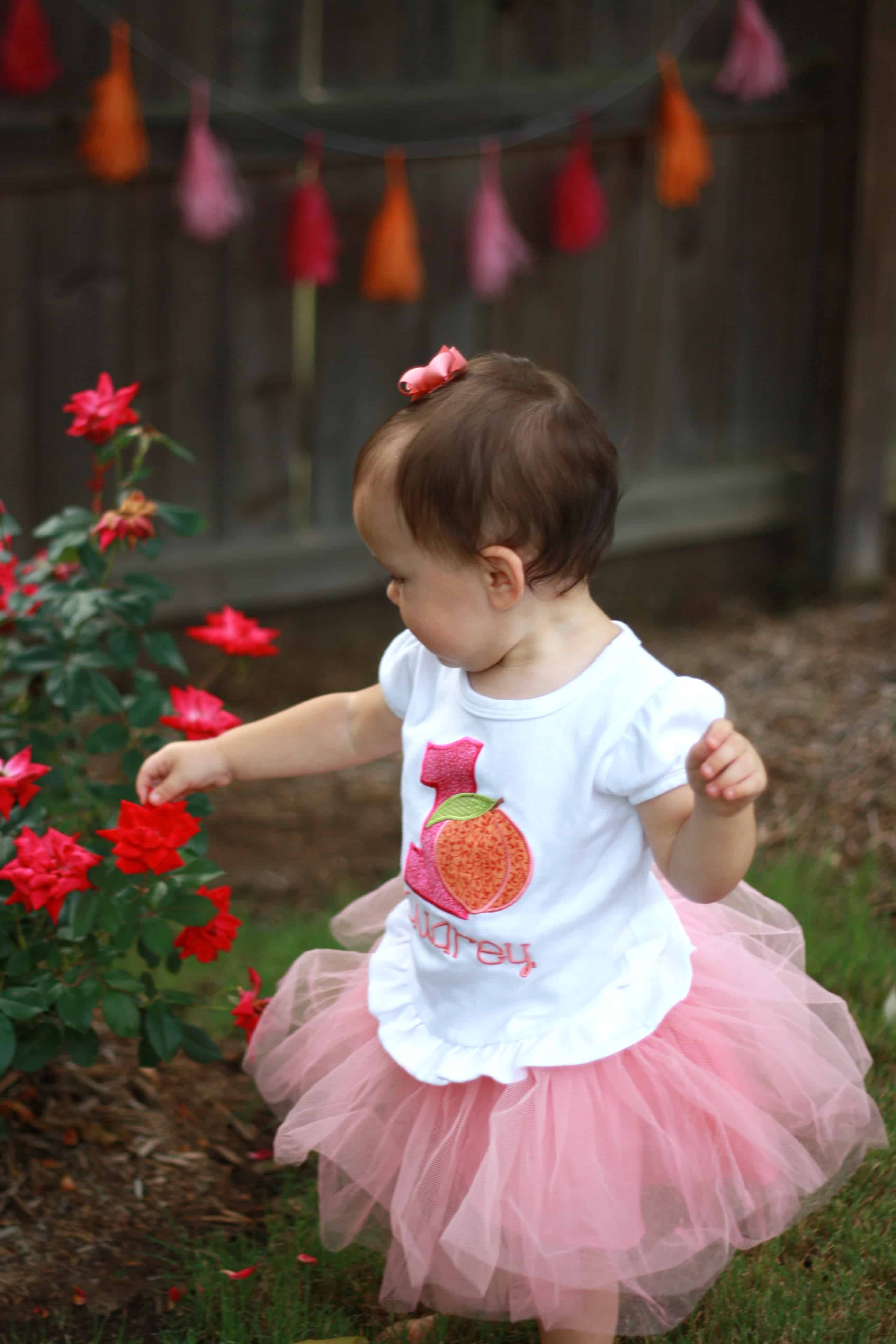 To my dear baby A,
We made it, Little Miss! It's been a year! It's an emotional day for me. I just can't believe that you, my itty-bitty one, are 1 already. I'm not quite ready for you not to be my tiny baby anymore. I'm just not ready. You, sweet one, made the first year such a joy. From the moment you came into this world (full of fire), you were a happy, sleepy girl. You took it easy on me. Thank you for that! I just love you. I just LOVE you. From the very first second, I've loved you in the most fierce way. You are my girl. I still can't believe it sometimes – that you are here with us, that you are ours. You've completed me in best way possible. I just don't know if my heart can handle anymore! But, I hate how quickly I'm forgetting all of your baby-ness. It all goes by in a blur and, at times, it can be so hard to remember it all. I just want you to know that I loved your baby stage. It can be so hard, but with you, I truly enjoyed it. I wish I could keep a piece of you from each stage of your life, so that I could visit that part of you whenever I want. I'm already missing baby A, as toddler A has taken over. So, for today, here's a written photograph of my lovely, beautiful, feisty girl … the piece of you for me to bottle and keep … just as you are in my mind right now.
At 1 you are …
Giggles. Full of giggles
Playing Peek a Boo
Playing chase & loving getting caught
Huge smiles
Fiery. What a temper!
My good sleeper. You love your bed.
A big eater. You love food!
Miss Independent. "Put me down and let me run." You don't want to be held. You won't let me rock you.
Playing with toys
Loving on your "Betty Baby" doll
A giver of funny open mouth kisses
Full of big hugs and squeezes
Throwing kisses
Laughing at your Bubby N. He can make you happier than anyone else.
Screaming in the car. Man, you sure hate your car seat.
Squealing at Daddy. You adore your Da-Da!
Running toward me yelling, "MaMaMaMa"
Oh, my girl. Right now, at 1, I love listening to you babble and talk to your baby-doll. I love the way you scrunch up your nose when you smile … or when you are making a grumpy face. I love how excited you are to see me, and to see your daddy when he gets home from work. You know exactly how to turn it on and light us up! I love your determination. You refuse to be seen as a baby. In your mind, you are big girl and you are gonna do it yourself. I already admire your spirit and zest for life. You make us whole. You have our hearts.
I'll love you until the end of all time.
— Your Momma