A Pre-Teen/Tween Boy Bedroom … aka Noah's "new" room!
Our homes are our havens ~ our rooms are our refuge.
Every kid, whether they share a room or not, needs a little space of their very own, no matter how small or how grand. I have the sweetest memories of my own childhood bedroom. Happy times spent with my Barbie house or at my desk, writing and drawing. It was a place all my own. A piece of the world just for me. 
When Noah turned ten (yes, over a year ago, shhh!) he asked for "a new room" for his birthday. A "grownup" bedroom. Honestly, the timing was right. Ten was a milestone birthday and a great time (in our household) for a room update. After-all, he was only six (!) when we moved into our current home. At that time, we simply re-created his bedroom from our previous house – everything remained the same as it had been since just before his 3rd birthday when we transitioned him into a "big boy room". It was time for an update.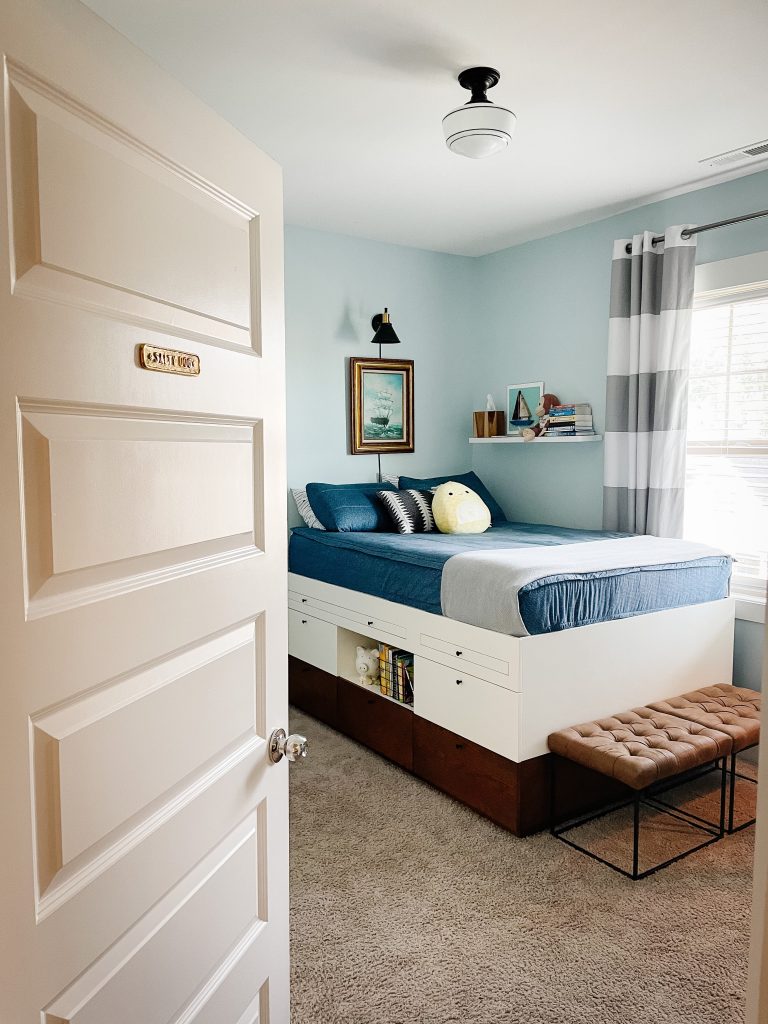 Of course, since my son is my son, he wanted to be involved in the planning. He cared about the details and even submitted his own proposal … complete with an elaborate loft bed … for me to consider. In the end, the measurements just didn't work for a loft bed … and after thinking it over for a little while, it didn't seem like a good solution long term. I simply couldn't imagine him coming home from college one day and crawling up to sleep near the ceiling. And, he couldn't imagine a world where his favorite doggie couldn't crawl into bed with him or wake him up with a kiss each morning. 
We got creative. We sketched together. He daydreamed about rock walls and all sorts of fun (which didn't happen in the end). We had fun sharing our ideas and working together.
My Sketches: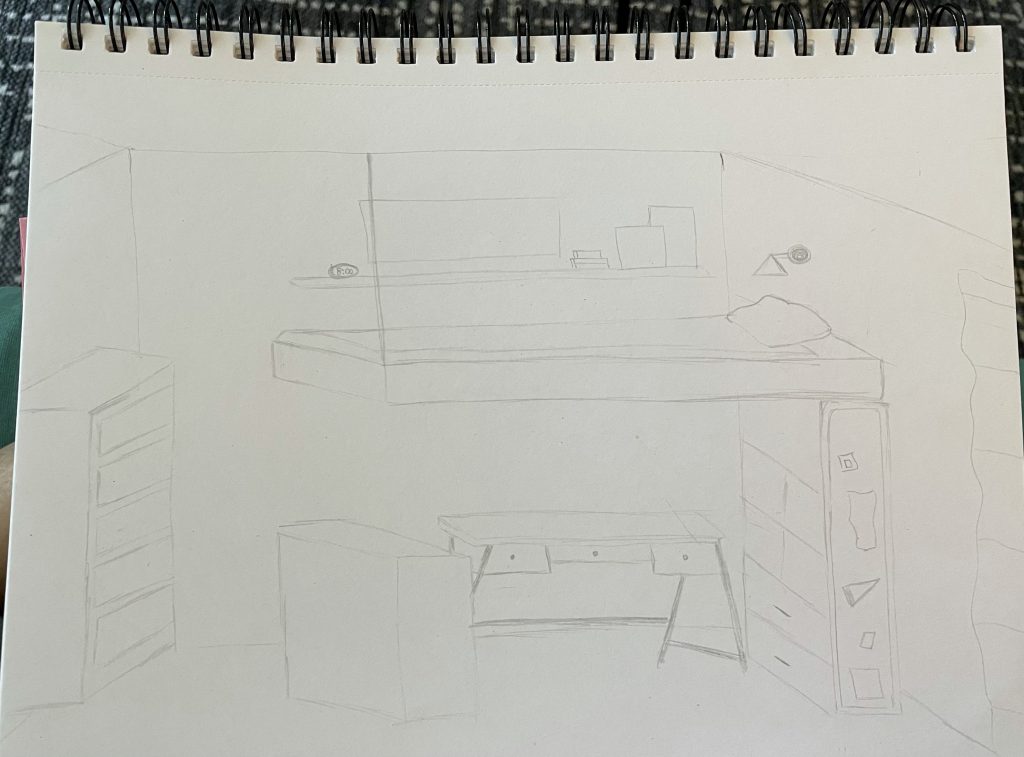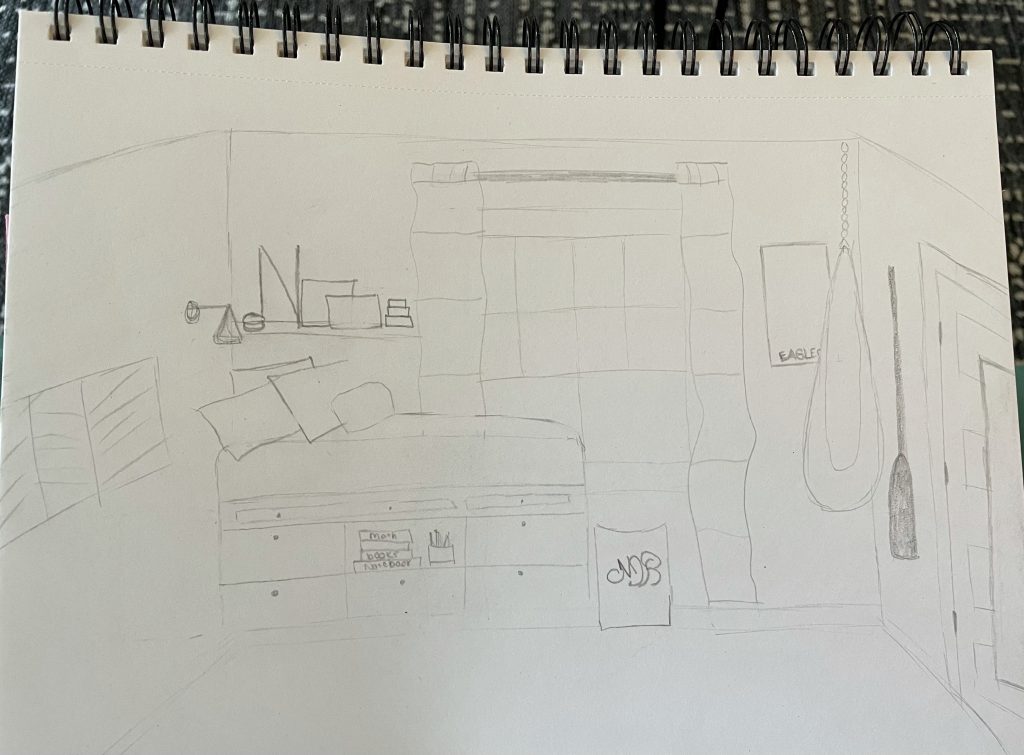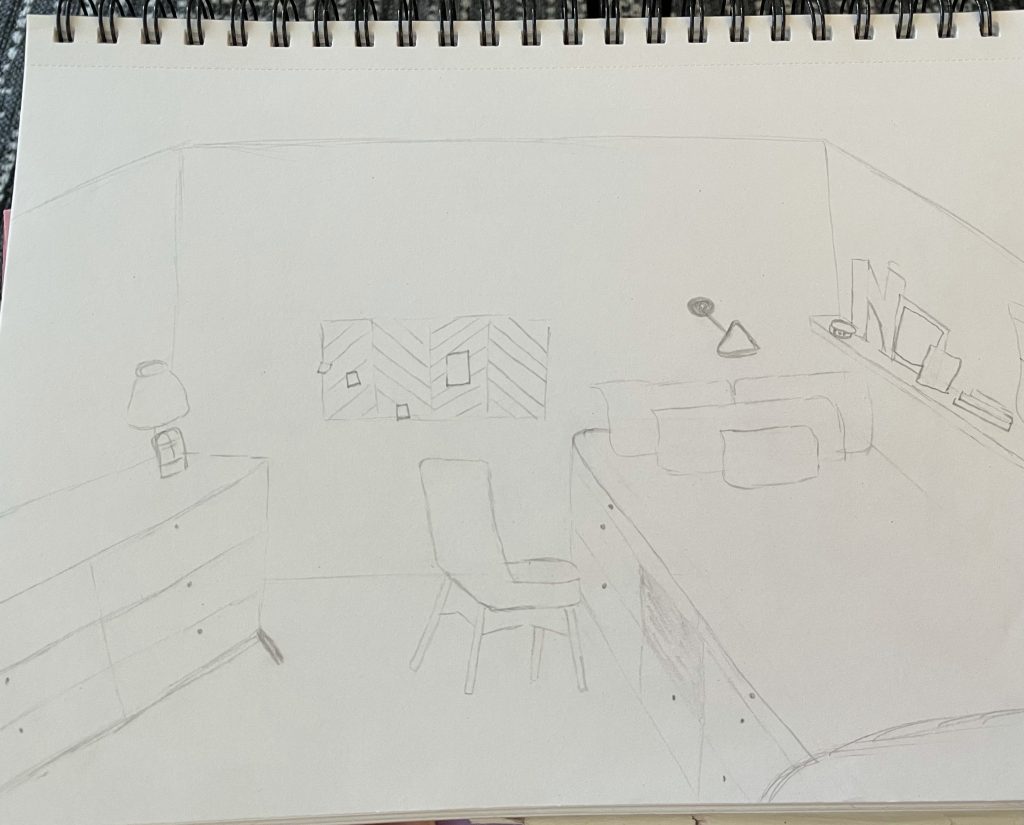 Some of our Pinspiration: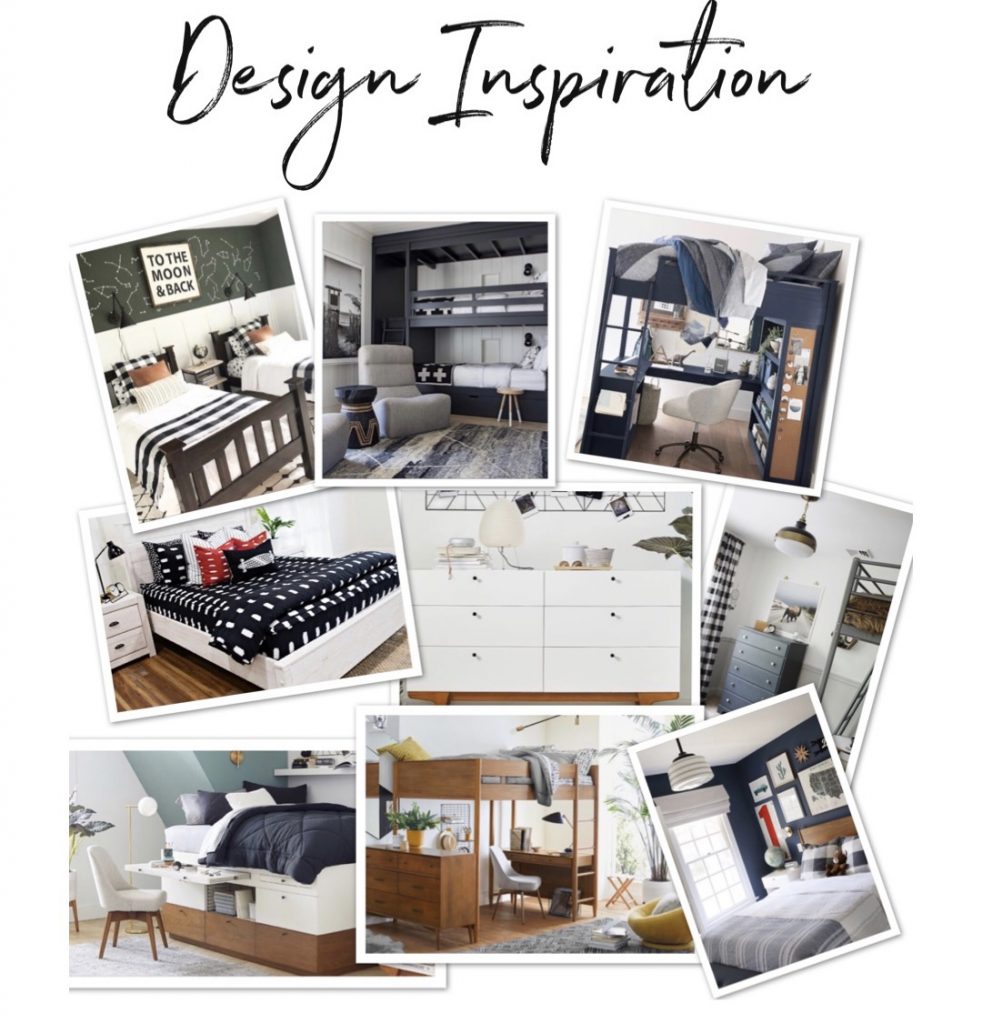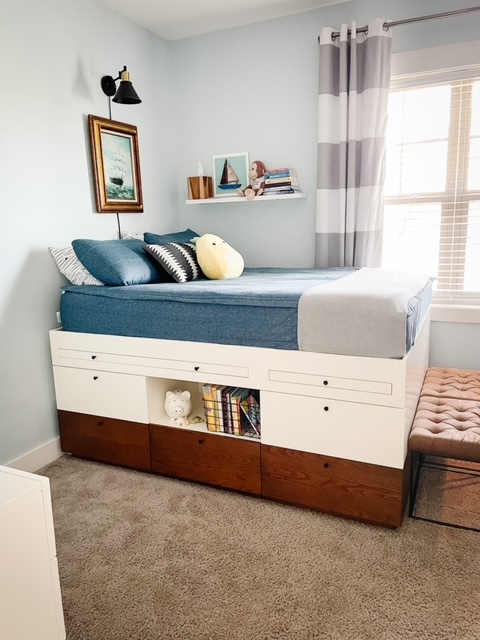 When we found the Captain's Bed at Pottery Barn Teen, we both knew it was perfect. He loved that it was 'almost' loft-ish and I loved the storage. Noah's closet is the smallest in the house – he was in need of more storage. And, while I don't always love the look of a matching furniture set – we did happen to like the matching West Elm x PBT Modern dresser. Win!
Once the furniture was ordered (and, yes, it took forever to arrive and that was a whole debacle of fun) we had a direction and were able to focus on some of the more fun options. Decor! Artwork! A Schoolhouse light! We added some special pieces to complete the space, make it feel like Noah and reflect his personality and style. And, as a bonus, I was thrilled to finally have a place to hang the vintage ship painting that once-upon-a-time hung in my great-grandfather's house.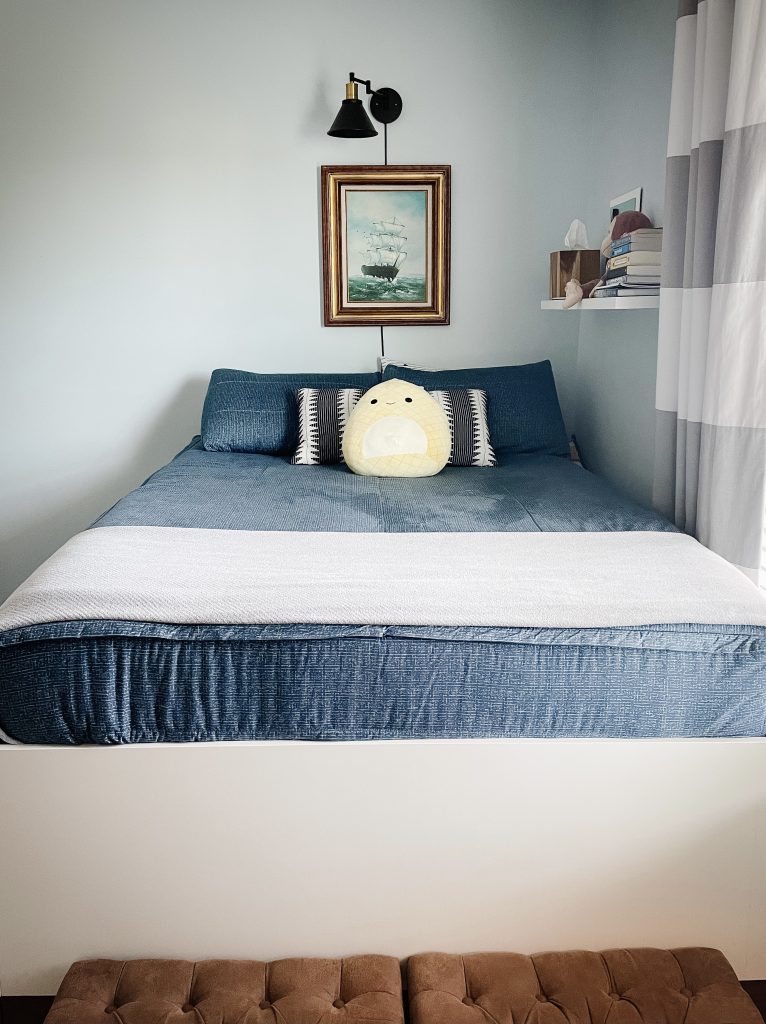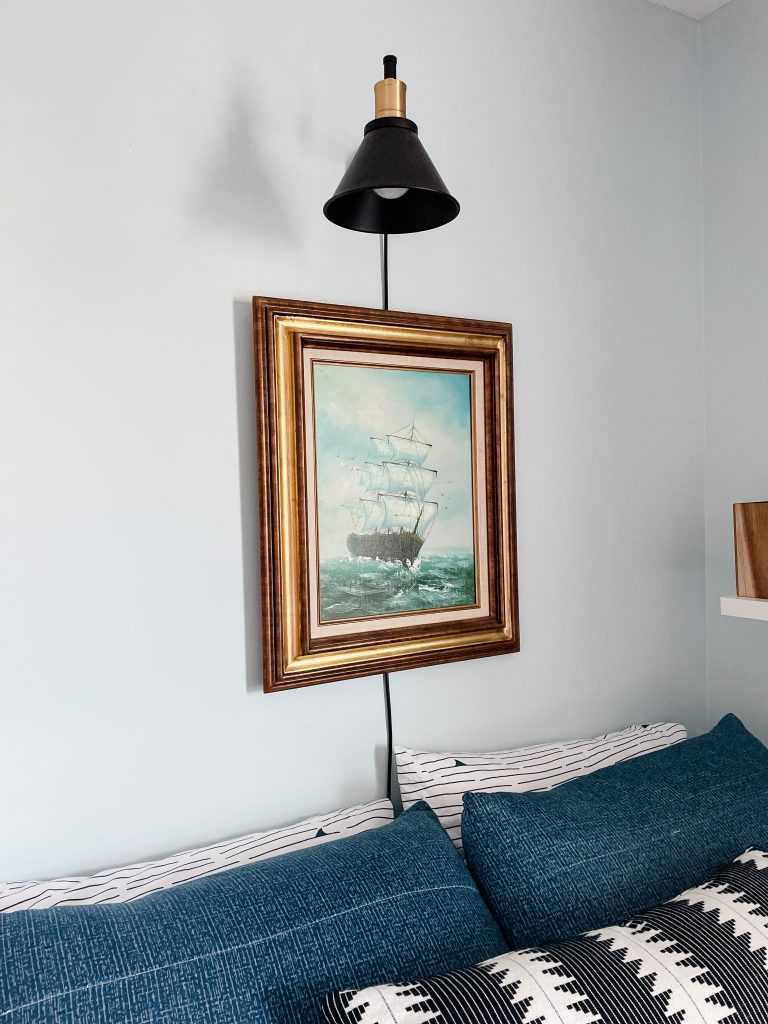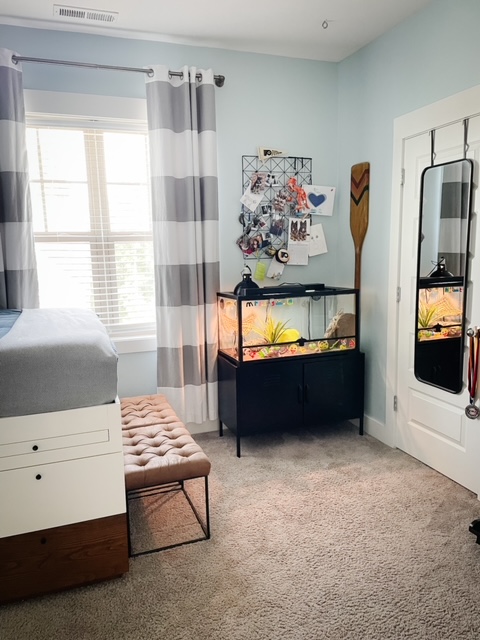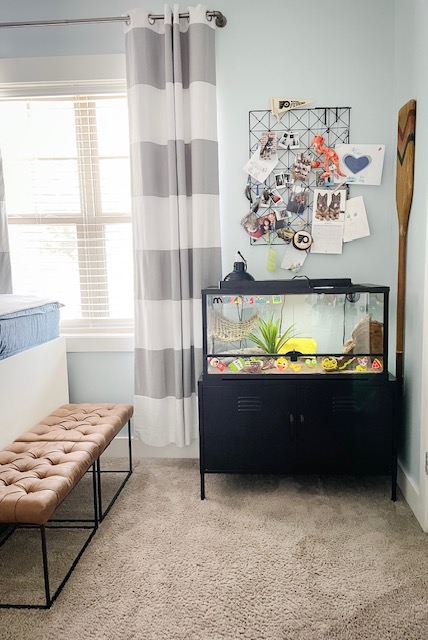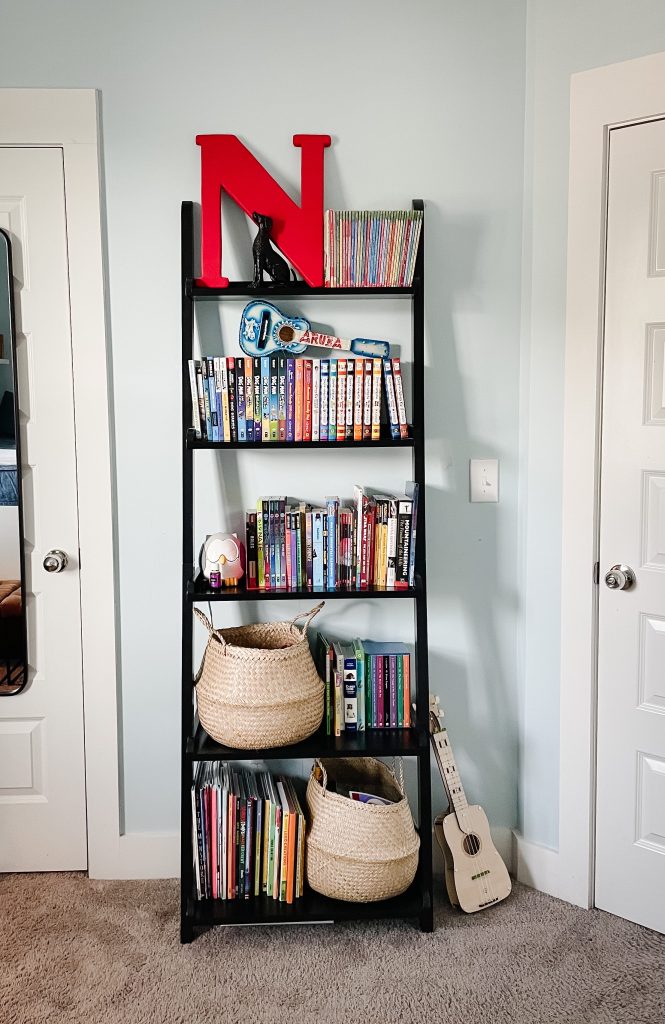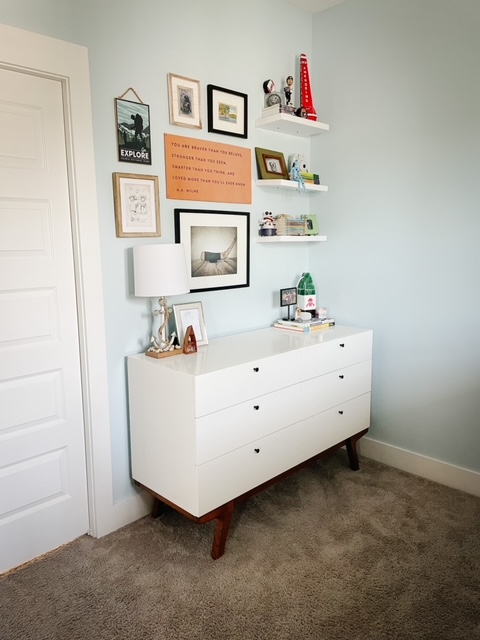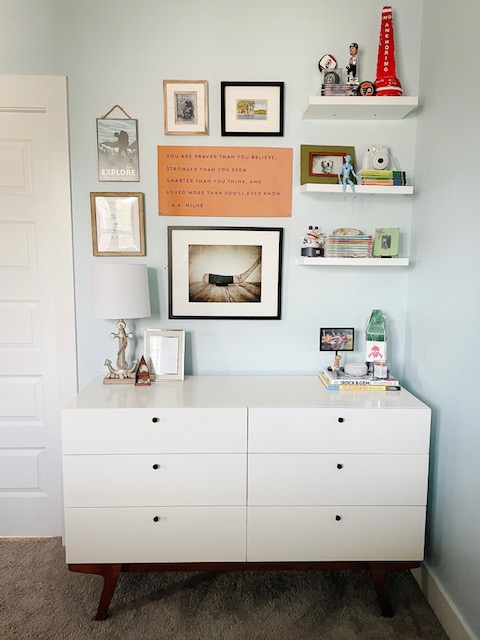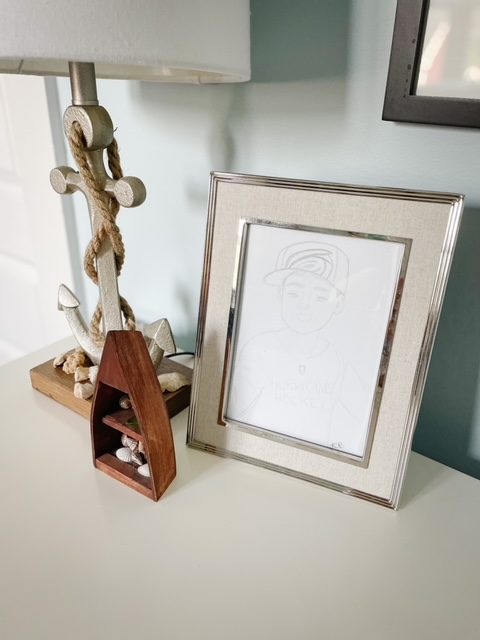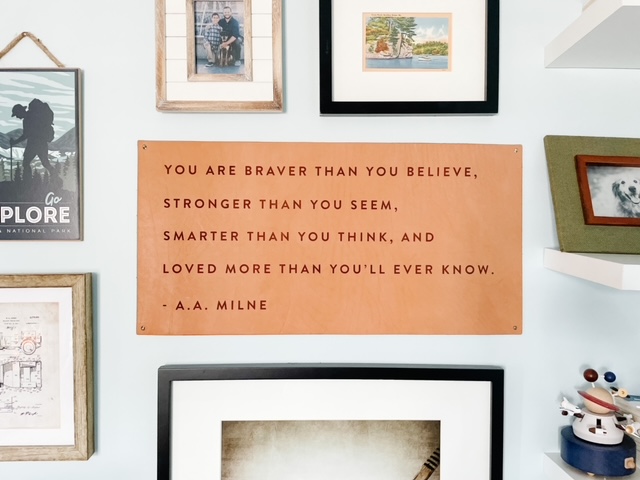 Noah's room feels good. It feels like him. Cozy. Comfy. Practical, yet cute. Complete with the perfect reading light and shelf for his many books. He's happy. I'm happy.
Last month, Noah turned 11 and I couldn't let another month go by without finally sharing his "new" room … complete with a bearded dragon tank! That was one that I didn't see coming when we started the planning process. But, as I've learned time and time again … never say never.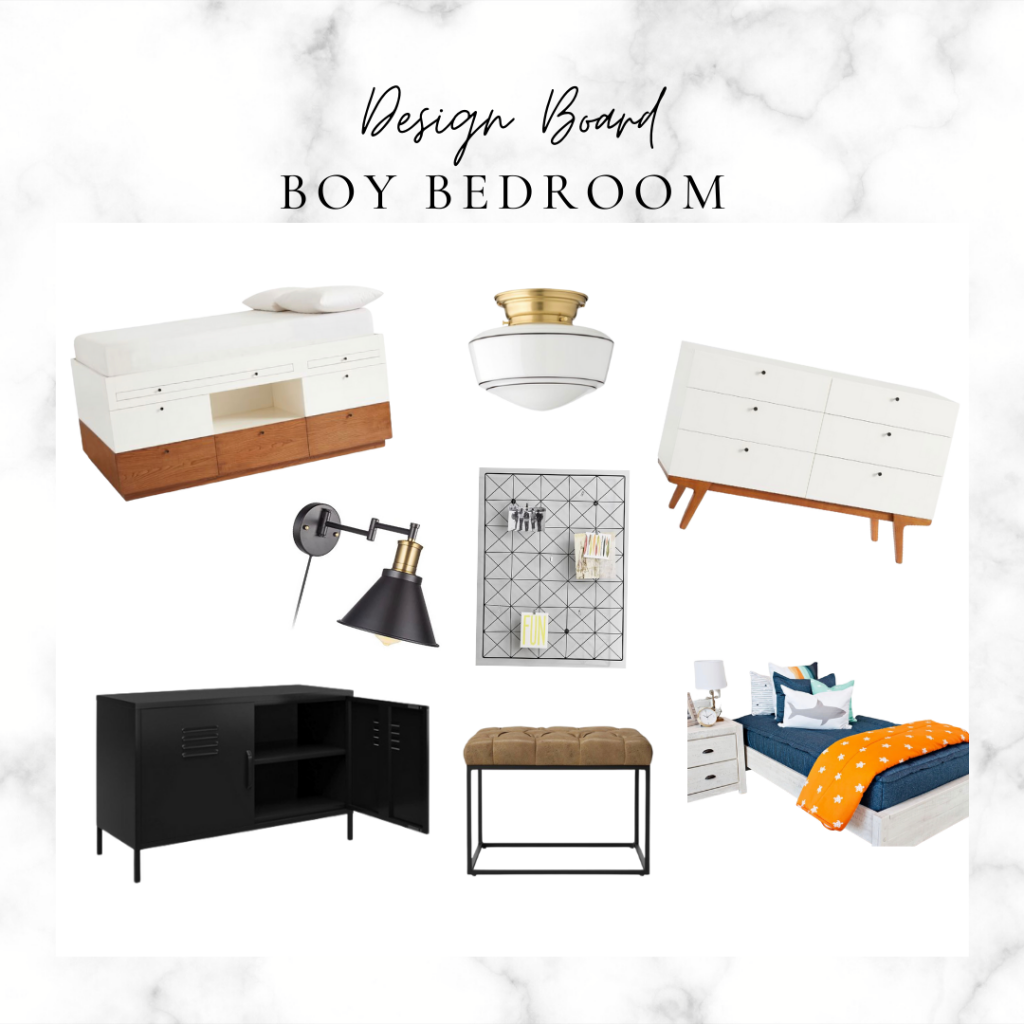 Of course, I couldn't wrap this up without showing you the "before" photos of his room as well! And, one last side-by-side comparison … for fun!
The BEFORE: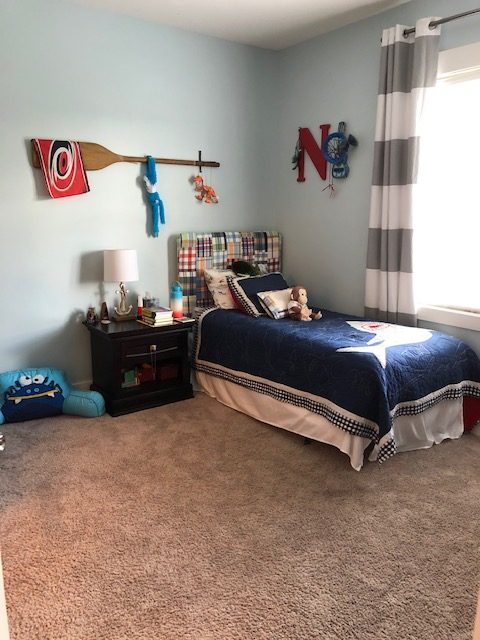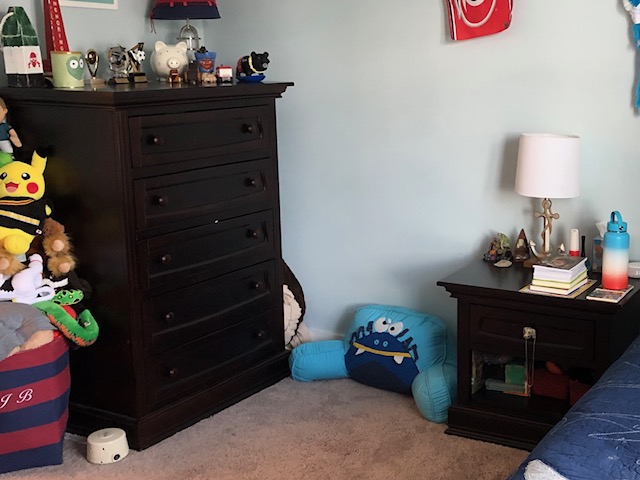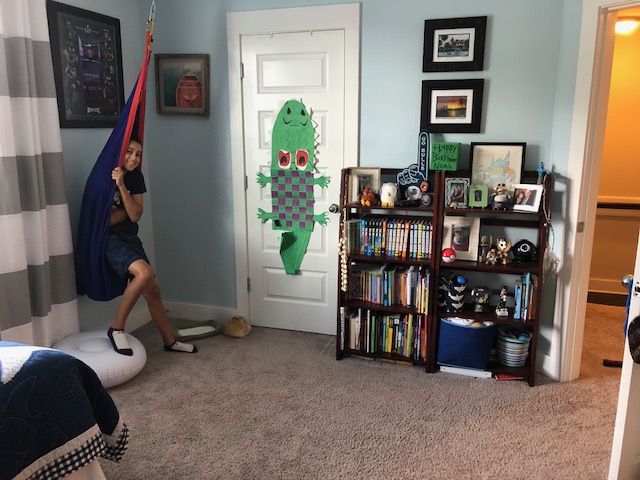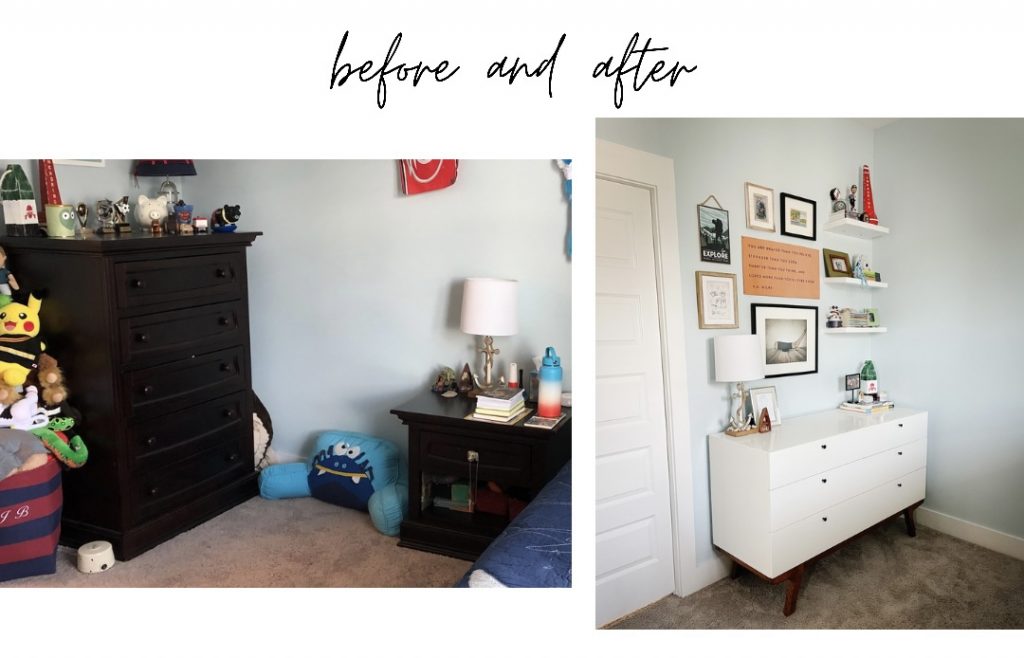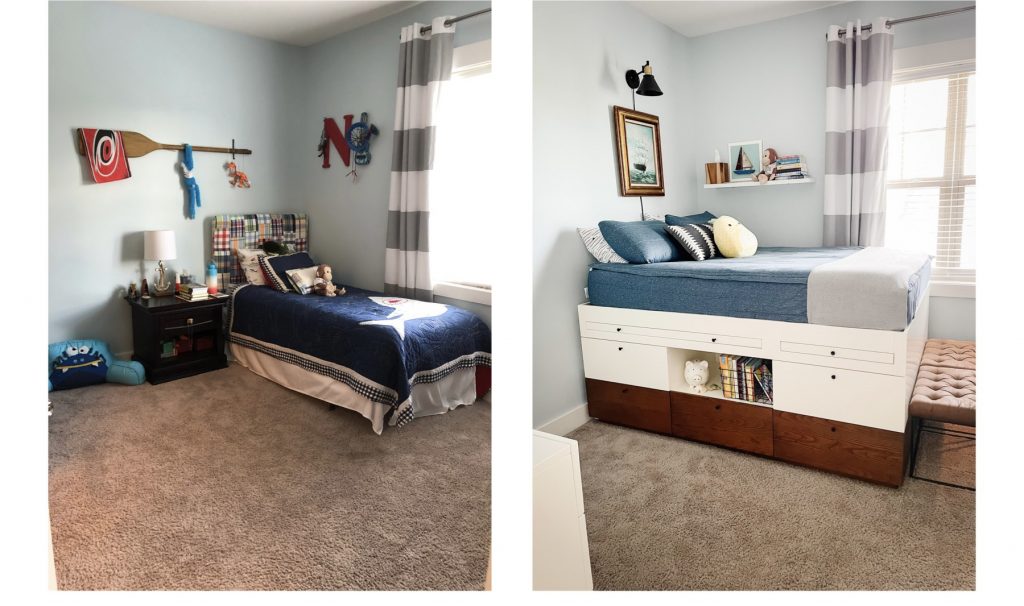 It's been a good change … one that my boy is still enjoying a year later … and hopefully for many years to come!

Shop This Post