On the Shelf: January and February 2022 Books Read
January was a cozy, cold month in North Carolina and I found myself reading more than I normally do. I just wanted to stay in (or we were quarantining and HAD to stay in – either way), curl up by the fire and read. So I did. And, you know what, it was a pretty decent way to kick off the year … with a book in hand!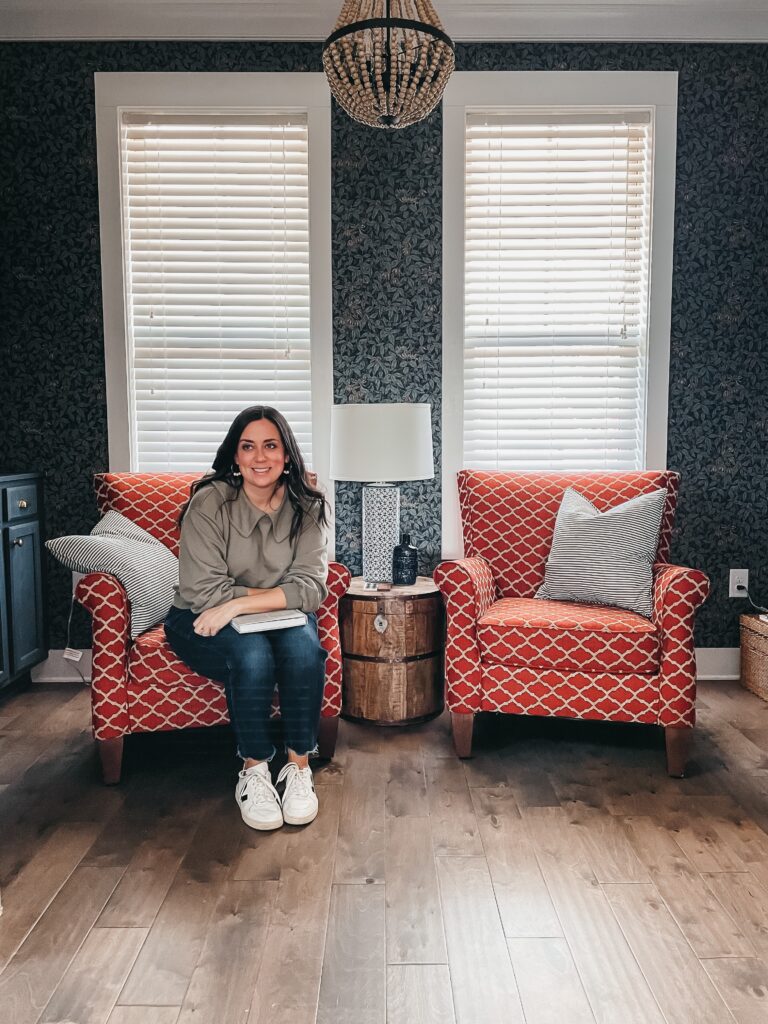 Here are the books that I checked off the list in January and February (so far), their Goodreads summaries and my personal thoughts on each one …
"Wish You Were Here" by Jodi Picoult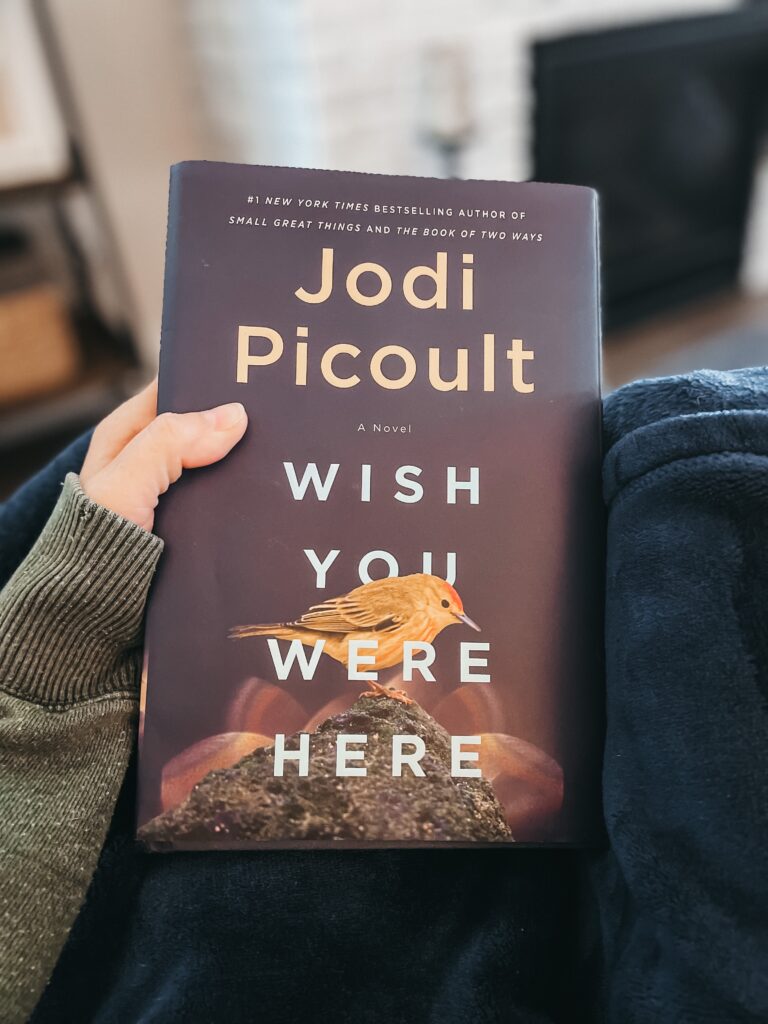 Summary: "From the #1 New York Times bestselling author comes a deeply moving novel about the resilience of the human spirit in a moment of crisis. Diana O'Toole is perfectly on track. She will be married by thirty, done having kids by thirty-five, and move out to the New York City suburbs, all while climbing the professional ladder in the cutthroat art auction world. She's not engaged just yet, but she knows her boyfriend, Finn, a surgical resident, is about to propose on their romantic getaway to the Galápagos—days before her thirtieth birthday. Right on time. But then a virus that felt worlds away has appeared in the city, and on the eve of their departure, Finn breaks the news: It's all hands on deck at the hospital. He has to stay behind. You should still go, he assures her, since it would be a shame for all of their nonrefundable trip to go to waste. And so, reluctantly, she goes. Almost immediately, Diana's dream vacation goes awry. The whole island is now under quarantine, and she is stranded until the borders reopen. Completely isolated, she must venture beyond her comfort zone. Slowly, she carves out a connection with a local family when a teenager with a secret opens up to Diana, despite her father's suspicion of outsiders. Diana finds herself examining her relationships, her choices, and herself—and wondering if when she goes home, she too will have evolved into someone completely different."
My thoughts: I usually love Jodi Picoult. I didn't NOT like this book. I liked it. Ish. The story was good. Thoughtful. Interesting. I just … Well, my son had Covid while I was reading it. And, I couldn't help but feel … unsettled the whole time. The story was set in March 2020 and I was reading it in January 2022 and it didn't feel far enough away. I wasn't ready for it. I wasn't ready to read about Covid in this way. I just wasn't ready. But, I don't know if my opinion is the popular one because I've heard others say that it felt really cathartic for them. 
"American Dirt" by Jeanine Cummins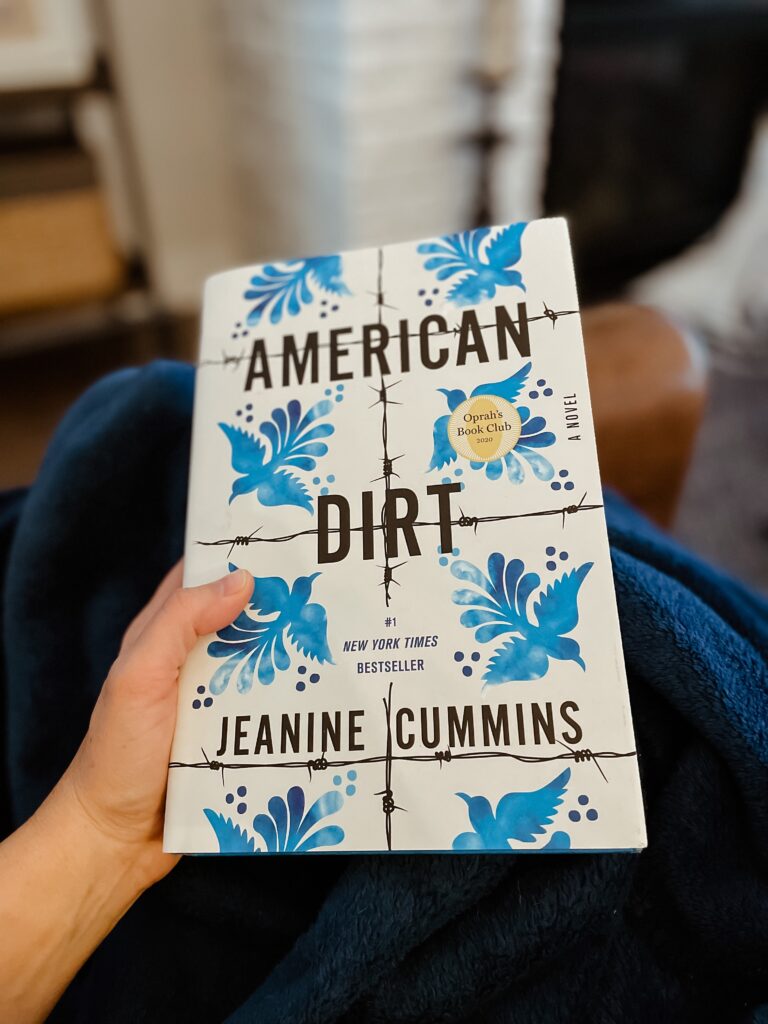 Summary: Lydia lives in Acapulco. She has a son, Luca, the love of her life, and a wonderful husband who is a journalist. And while cracks are beginning to show in Acapulco because of the cartels, Lydia's life is, by and large, fairly comfortable. But after her husband's tell-all profile of the newest drug lord is published, none of their lives will ever be the same. Forced to flee, Lydia and Luca find themselves joining the countless people trying to reach the United States. Lydia soon sees that everyone is running from something. But what exactly are they running to?
My thoughts: Whew. This was a heavy one. I felt heavy while I was reading it. I did truly appreciate the glimpse into the life of a migrant trying to flee a really tragic situation. I think it's an important story to tell. But, the amount of tragedy and suffering in this book is just hard. There's no way around it. There's no way to make it easy. It's hard to read, even though it's necessary to read. Every character is deeply scarred … which of course is why they are all running. I felt myself (without intending to) detaching from the characters and because I detached I didn't feel as strongly about them and what they were going through as I would have liked. So, while I'm glad I read this book, I just didn't love it. Shout out to Luca though, the little boy who, in my opinion, was the star of this show.
"Minimalista: Your Step-by-Step Guide to a Better Home, Wardrobe, and Life" by Shira Gill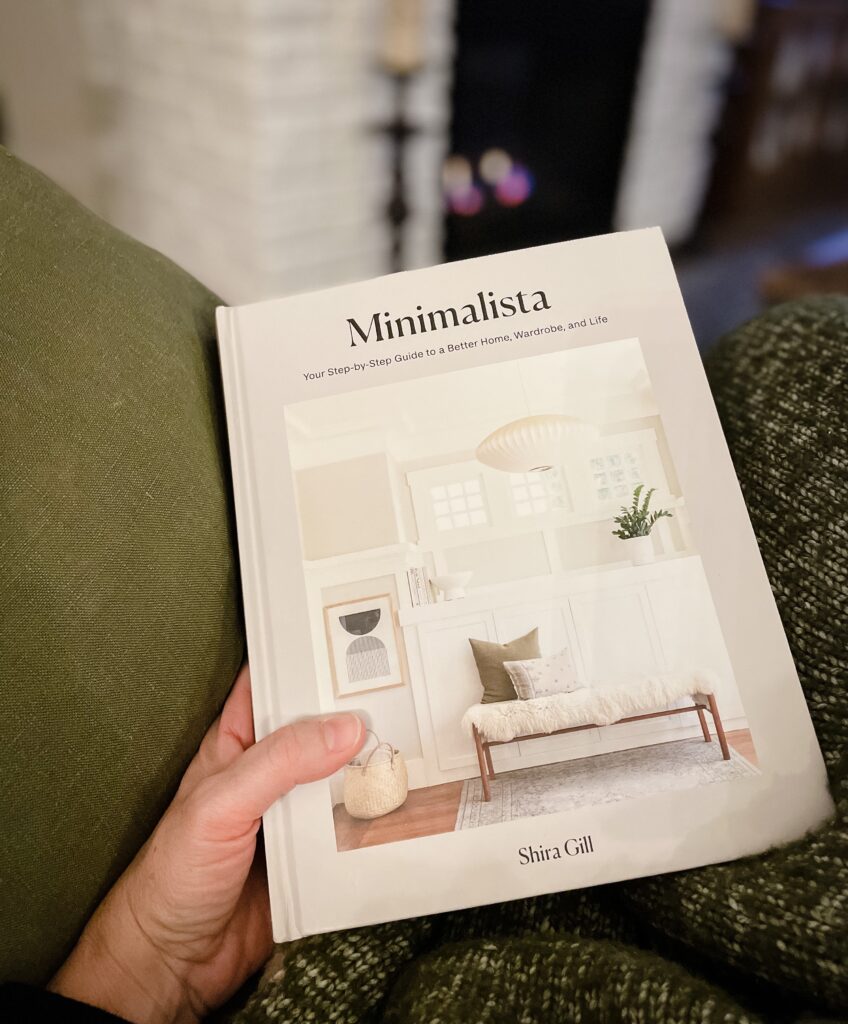 Summary: As a professional home organizer with clients ranging from students to multi-millionaires, Shira Gill observed that clutter is a universal stress trigger. Over the years she created a signature decluttering and organization process that promotes sustainability, achieves lasting results, and can be applied to anyone, regardless of their space or lifestyle. Rather than imposing strict rules and limitations, Shira redefines minimalism as having the perfect amount of everything—for you—based on your personal values and the limitations of your space. Now, in Minimalista, Shira shares her complete toolkit for the first time, built around five key steps: Clarify, Edit, Organize, Elevate, and Maintain. Once you learn the methodology you'll dive into the hands-on work, choose-your-own-adventure style: knock out a room, or even a single drawer; style a bookshelf; donate a sweater. Shira teaches that the most important thing you can do is start, and that small victories, achieved one at a time, will snowball into massive transformation. Broken into small, bite-sized chunks, Minimalista makes it clear that if the process is fun and easy to follow, anyone can learn the principles of editing and organization.
My thoughts: Well, obviously this isn't a fiction book, so it's a bit harder to simply share my thoughts on it. But, I love a good design book and I love a book about organizing and this one was really practical (easily applicable tips and to-dos that everyone can follow) and highly motivating! It's a winner.
"Golden Girl" by Elin Hilderbrand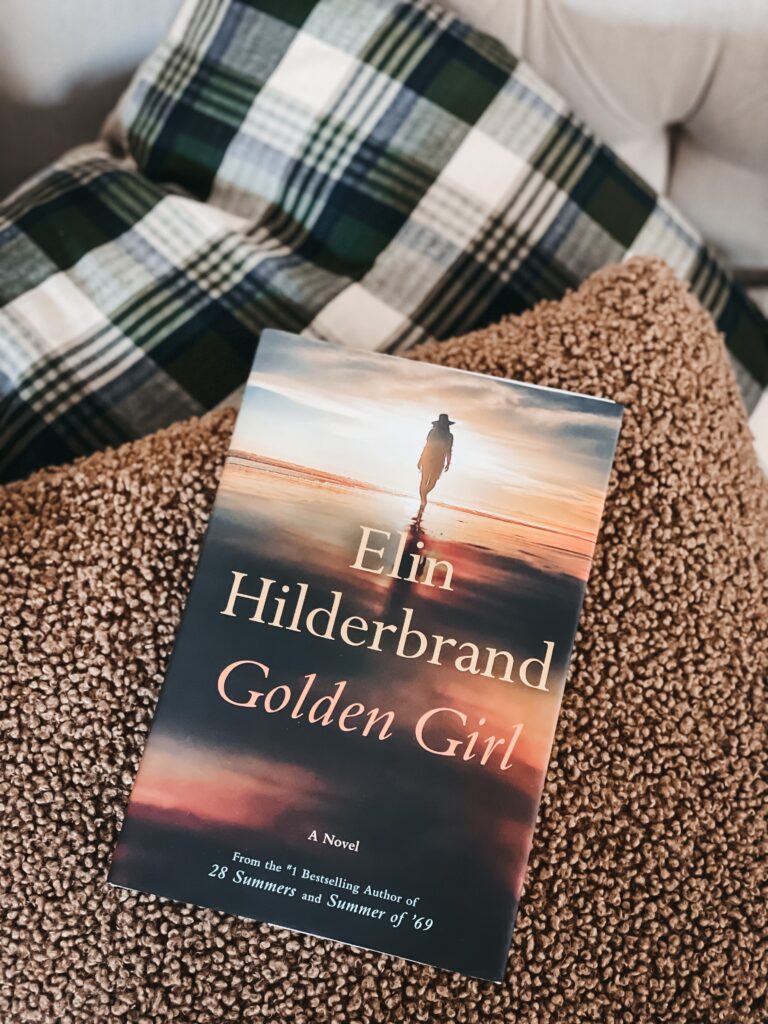 Summary: On a perfect June day, Vivian Howe, author of thirteen beach novels and mother of three nearly grown children, is killed in a hit-and-run car accident while jogging near her home on Nantucket. She ascends to the Beyond where she's assigned to a Person named Martha, who allows Vivi to watch what happens below for one last summer. Vivi also is granted three "nudges" to change the outcome of events on earth, and with her daughter Willa on her third miscarriage, Carson partying until all hours, and Leo currently "off again" with his high-maintenance girlfriend, she'll have to think carefully where to use them. From the Beyond, Vivi watches "The Chief" Ed Kapenash investigate her death, but her greatest worry is her final book, which contains a secret from her own youth that could be disastrous for her reputation. But when hidden truths come to light, Vivi's family will have to sort out their past and present mistakes—with or without a nudge of help from above—while Vivi finally lets them grow without her. With all of Elin's trademark beach scenes, mouth-watering meals, and picture-perfect homes, plus a heartfelt message—the people we lose never really leave us—Golden Girl is a beach book unlike any other.
My thoughts: As with any Elin Hilderbrand book, I couldn't help but wish that I were reading it on a beach somewhere. Preferably on Nantucket. 😉 But, honestly, this beachy read was exactly what I needed during a snowy week in January after having just finished a book as heavy as "American Dirt"! I curled up by the fire and transported to warmer times. It was a fun story line, with the unique perspective of the main character watching all of the events unfold from her perch in "heaven". This book felt light, even with a hit-and-run and all the aftermath, and FUN to read. Thoroughly enjoyed it!
"Reminders of Him" by Colleen Hoover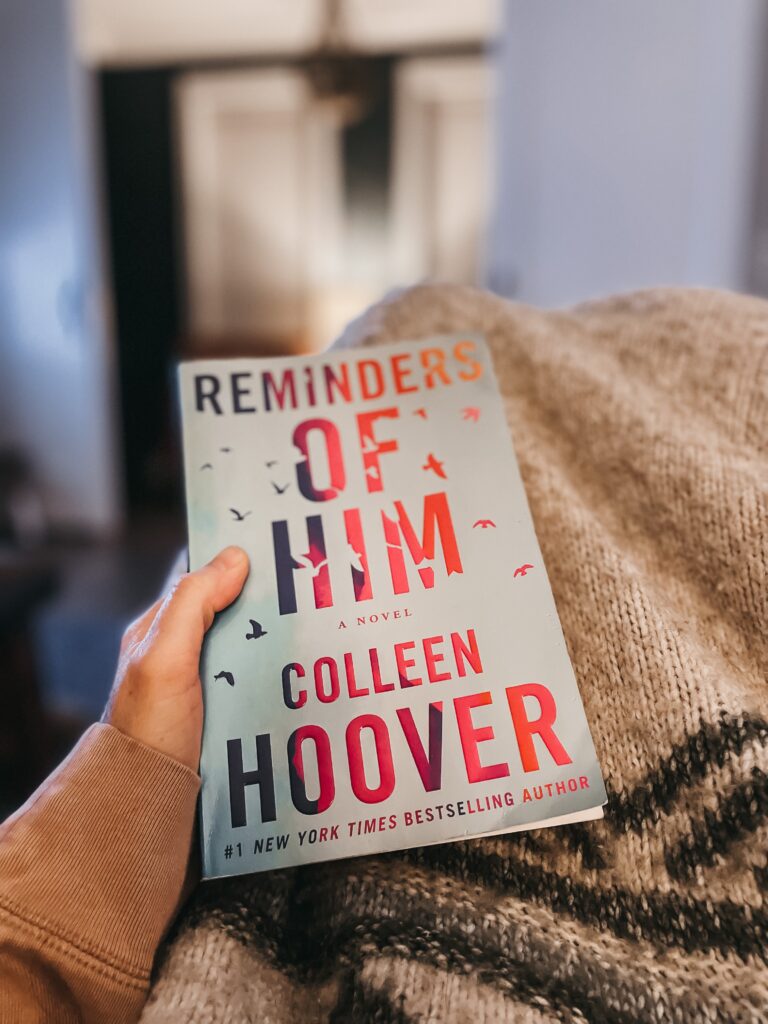 Summary: After serving five years in prison for a tragic mistake, Kenna Rowan returns to the town where it all went wrong, hoping to reunite with her four-year-old daughter. But the bridges Kenna burned are proving impossible to rebuild. Everyone in her daughter's life is determined to shut Kenna out, no matter how hard she works to prove herself. The only person who hasn't closed the door on her completely is Ledger Ward, a local bar owner and one of the few remaining links to Kenna's daughter. But if anyone were to discover how Ledger is slowly becoming an important part of Kenna's life, both would risk losing the trust of everyone important to them. The two form a connection despite the pressure surrounding them, but as their romance grows, so does the risk. Kenna must find a way to absolve the mistakes of her past in order to build a future out of hope and healing.
My thoughts: How Colleen Hoover managed to write such a heavy storyline and not make the entire book feel too heavy and too sad … I do not know! It IS all heavy. It IS a really, really sad story. And, yet. It didn't feel too heavy while I was reading it. I breezed through this one and enjoyed it SO much. I read it as if it were light. I read it as if it were an easy romance. It wasn't. It was somehow all just right. I really liked this one!
What are you reading right now? What have you read lately and loved?! Tell me in the comments below!

Shop This Post