Hello Fall + Fall Shoes!
Whenever September hits, I'm ready to welcome in the fall. The weather in NC rarely cooperates with my wishes, but … if it's September … it's okay. 😉 Hello to fall in the south!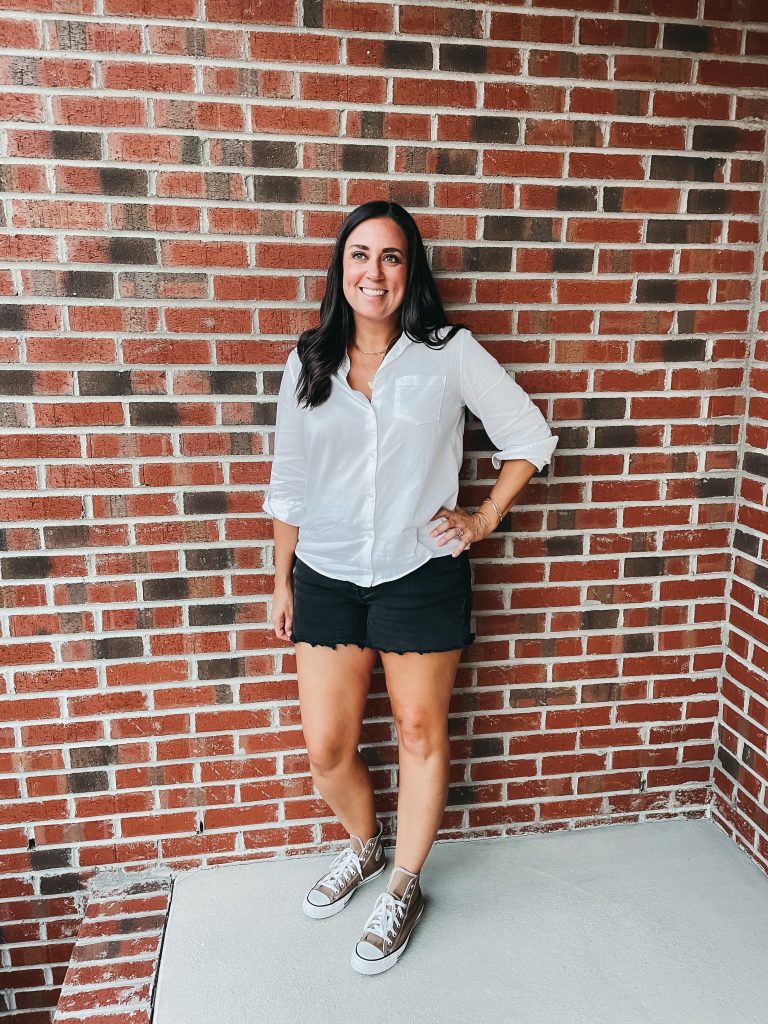 It's fairly safe to say, I do more clothing + shoe shopping in the fall than any other time of the year. The "ushering in of fall" feels somewhat ceremonial to me. A desire blossoms … for cooler weather, for cozy, for candlelight, for warm fires, for comfy textures. This feels right to me. A settling of the soul.
Part of this ceremonial "ushering in of fall", is a good closet clean-out. It's necessary. Summer isn't my best-self-season. It's too hot to be bothered. Stacks start forming in the floor of my closet. Travel items aren't put entirely away. By the end of summer, I'm just not as organized as I like to be. A rainy Saturday in September, with the sounds of football-watching happening in the background, is the absolute perfect time to pull out unworn items from the previous seasons and start to plan for the items you'd like to add for the fall and winter.
Today, let's focus on the shoes! There are quite a few new, emerging, changing styles happening in the shoe world. I always tell myself – "follow the trends you really like". Don't ever feel the need to do them all. That would be WAY too much anyways and you'll end up with a closet that isn't genuine to who you are and your own personal style.
Here's a round-up of shoes/shoe trends that I have my eye on. I already know, they aren't all for me. But, a round up is meant to give us ideas and a place to start … so here we go …
1. Western Booties are having a moment and I'm here for it. I'm liking this pair from Madewell or the Silma or the Vikram bootie from Dolce Vita.
2. Clogs, mules and wooden platforms are all over the place right now. I'm on the fence, honestly. I think this is a trend I'd like to try out. Probably. But, I'm not sure if I'll love them. Currently, I have my eye on this pair from Madewell. JCrew has some really classic options as well. Or, this cedar clog from Free People is a fun variation.
3. Hightop sneakers like these classic black Converse aren't a new trend by any means, but they are definitely back and big this fall. I've been eyeing these for the past couple of season, but pulled the trigger immediately once I found them in the new Sand Dune color! I think the Vans SK8-HI or the Nike Blazers are a good option as well.
4. Uggs. Are Uggs out? Nope. Just like other Y2k revival brands … Uggs are back this year. They look a little different than they have in the past, with the Tazz platform slip-on being the most popular. Personally, I tossed my years-old Uggs out 2 years ago (after my pup chewed them up) and have been meaning to replace them with this pair of Classic Minis. There's just nothing that beats Ugg when you are running out the door to carpool with your kiddos on a chilly morning.
5. Loafers or Driving loafers. I'm not sure how big of a trend the driving loafer actually is right now, but I'm seeing them pop up here and there and this green pair from Rothy's caught my eye. A MUCH bigger trend this fall is the lug-sole loafer, but I'm just not feeling them. Lug sole everything is everywhere. While, I haven't jumped on this, you may want to and this lug-sole loafer from Madewell would be a great place to start.
6. Birkenstock Bostons. These aren't for everyone but I'm secretly thrilled that these Birks are back because … I still have my original pair! No, I'm not kidding! I honestly don't know how this happened because I'm fairly ruthless at purging shoes I no longer wear. Yet, somehow my Birkenstock Bostons have been saved from the closet purge time and time again (for well over a decade). I actually started wearing them again last year but plan to wear them a ton more this season! I have the classic pair, but I'm seeing the shearling lined Bostons the most right now. And, the OTHER Birkenstocks that I'm seeing a lot are the Papillio by Birkenstock Arizona Big Buckle Genuine Shearling Slide Sandal. Personally, I'll pass on this style, but they are out in the wild right now! 😉
7. Sneakers! Thank goodness the sneaker trend isn't going anywhere anytime soon! I've been on board and I'd like to stay on board. Veja and New Balance have been my favorite for the past few seasons, but there are a ton of options right now. I met a friend for coffee a couple of days ago and she had on these Valda Lace-Up Leather & Suede Sneakers and they were really cute.
Other styles to keep your eye on and be aware of — knee high boots, lug-sole everything, skate sneakers, Mary Janes, shearling-lined everything, platforms, slanted heels, dad sneakers, sock boots, fashion wellies, square toe boots ….
Happy Fall and Happy Shoe Shopping!

Shop This Post