Back-to-School Shopping ~ The Girly Guide
"Back to school, back to school, to prove to Dad that I'm not a fool. I got my lunch packed up, my boots tied tight, I hope I don't get in a fight. Ohhhh, back to school." Honestly, I can't hear the words, "back to school" without hearing Adam Sandler's voice singing this little tune. It's ridiculous. But, I just can't NOT hear it.
Regardless of whether you have Billy Madison in your head, it's that time of year. Back-to-school. Coming in fast and furious. For many of you, it's time to transition from that casual summer existence to a more structured daily routine. It hits a bit different in our house, as we are in a year-round school district. My kids "track out" four times throughout the year instead of having one long summer break. Our "summer track out" consists of only July. Yes, we like it. But, "back-to-school" does hit differently. It's less fuss. It's a bit anticlimactic. The years tend to roll into each other. It takes more effort to make it exciting. It's not the same event as it seems to be for traditional school kiddos.
I personally loved back-to-school time. Fresh notebooks. Sharp pencils. Everything all clean and new and organized. Who am I even kidding? I'm still like this! I try to continue the tradition …
School supplies and new clothes definitely take the excitement level up a notch. Today, I've rounded up a little bit of this and a little bit of that to help get y'all geared up to tackle a new year! We've got this!
Up first – the girly guide …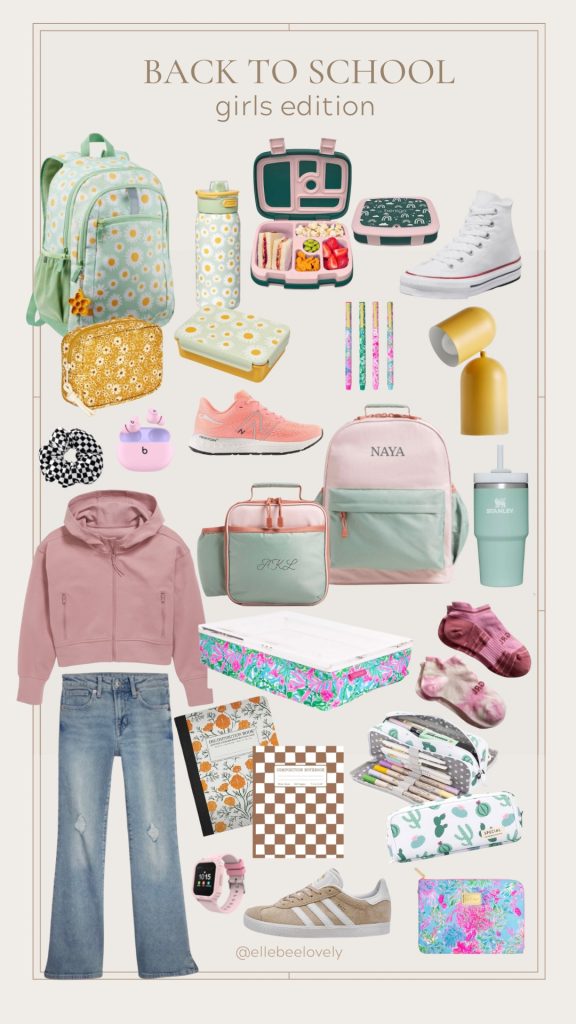 Links: daisy backpack, daisy water bottle, daisy bento box, daisy pencil pouch, bento box, Converse high tops, checkerboard scrunchie, Beats, New Balance sneakers, ink pen set, desk lamp, hoodie, lunch box, backpack, Stanley water bottle, lap desk, socks, jeans, flower notebook, checkered notebook, large pencil pouch, watch, Adidas sneakers, laptop sleeve
Here's to wishing all your babies, no matter the age, a safe and happy school year!

Shop This Post