Audrey's 7th birthday letter
Each year I write my babies a birthday letter. To be honest, it's more for me than it is for them, although I hope that one day they'll treasure them. I can't help but fear my own memory. All the things I want to hold forever – they slip through my fingers as time turns into a mist and passes me by. This is me. Trying my best to capture it and hold a piece of it forever. And, so, here we are. Another year. Another letter. This one is for my girl.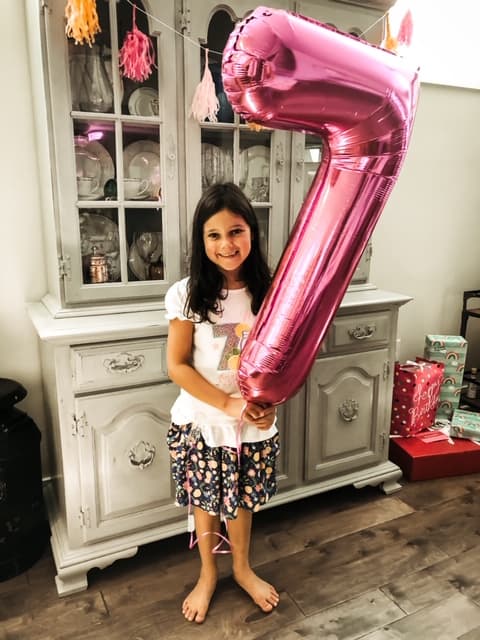 My Dearest Peachie,
Oh, beautiful girl of mine. It just can't be. Seven?! Maybe your brother is seven and you are four … that sounds right … feels right. But, you can't be seven. Not my baby. How can it be?!
And yet, it's true. Seven. I know you'd like to hold on to your littleness as much as I would.
You aren't a fan of change. But, grow you must. And, grow you are.
Your squish is gone. I've hated to see it go.
Your legs have grown long and lean.
We haven't bought new clothes lately and to your dismay many of your favorite dresses and skirts are too short.
You are strong, my girl.
And, summer has suited you.
Your skin is sunkissed.
You aren't one for much structure and hours of freedom are your favorite. You've always been able to lose yourself completely in your world of play. I've always loved witnessing it.
Watching you is magic. You capture my heart. The way you talk and dance. I fill up with pride. Yet, as I type this, I fill with longing and a melancholy that wraps itself around me like a thick winter blanket. I can't quite remember how perfectly you fit on my hip. I can't quite place it as well as I could a year ago or two. I can't smell the baby on you. Your tininess, your littleness … it's fading.
It must seem so strange to you now – that I would write you a birthday letter that sounds … more wistful … and less celebratory. One day you will see. One day you will understand. I celebrate so much. I celebrate all of you with a heart full of fiery love. I celebrate each little thing. And, I most definitely celebrate your 7th birthday!
But, each birthday brings beautiful joy and bruitiful pain. A mother's heart. Time is the enemy. Unraveling ever so slowly, so quickly. The love and the ache. They are one. For you are ours for just a little while. 
And, so here I am. Wrapping my love up in another letter for you. Doing my best to remember. To treasure. To store it all and keep it for another day.
It's a letter for you, yes. To wish you all of life's happiness. To help you recall 7. But, it's for me too. To have. To hold. When my memory can't recall it.
At 7, you have taken several steps away from me and out into the world. You finished kindergarten and loved your first year of school. My heart still breaks when I think about the way it was cut too short and that you'll start first grade from home. You loved all the things about school and were so excited to finally join your brother and friends. And, I loved you jumping off the bus and into my arms every afternoon.
At 7, you are sure. You are comfortable with who you are in your tight-knit world. You know what you want. We struggle not to call you "bossy". But, you are a boss lady for sure!
At 7, you are fun. You want to have a good time! You love to laugh and sing and play. The world is still carefree. You embrace childhood and all of it's magic with an uninhibited joy. I envy that.
At 7, you want to be with your friends more than you want to be with me. It's okay. I'm thankful.
At 7, your eyes shine and twinkle. Your nose scrunches when you smile big. Your laughter fills our home … though the sound of you shouting at your brother fills it pretty often too.
At 7, your freckles are to die for. I love them. I love you. I know I'm your momma, but I think you're absolutely gorgeous.
At 7, you love American Girl dolls and the world that you've created with your friends is elaborate and detailed (you call it "Apartment" which makes me giggle every time).
At 7, you've just learned to ride your bike without training wheels (a few months ago) and you are proud. I love seeing you conquer your fears and achieve something you've worked hard for. You shout "whoo hoo!" as you ride down the street!
At 7, you love pimento cheese, cheeseball (really anything that involves cream cheese), steak, pickles, banana peppers, Chick-fil-A wraps or nuggets, watermelon, Panera Bread salad and Mommy's Special Dip. Your favorite is a plate of random foods that no one else would ever put together … but it makes sense to you.
At 7, you've just finished watching the entire 8 seasons of the original Full House … and Fuller House too. And, you're a fan of High School Musical and The Parent Trap, though you don't watch much tv these days. You do love Family Movie Night, especially if popcorn is involved. Especially if it's your turn to pick.
At 7, you still only wear dresses. I'm waiting for this to change soon. But, for now, I will gladly hold on to the little girl who wears her best dresses out to play and who still does the "twirl test" when she gets anything new.
At 7, you are a creature of habit. This hasn't changed. You need to do things in a certain order. Nothing can be rushed. Taking your time is your love language. Rushing brings tears. Every time. Bedtime is still a tad tedious as your demands are specific. We read, we pray, we sing Twinkle, we kiss and we hug, we prop up the "Dad book" that you have to sleep with (open always to the same page), we kiss and hug 3 more times, we say "I love you and I miss you and I'll see you in the morning" at the door. And, then you say, "Can I say goodnight to you as many times as I want?" In that order. Every night. But. I wouldn't change it. Would never change you. And, I know I'll miss this part … when it's over. So, I'll cherish our stories and our sweet bedtimes. And your sweet love. For all my days.
At 7, you like to make up songs. You've done this since before you even had words. You want me to join you, but this is your gift and not mine. I try. But, yours are better. Keep singing. Keep acting out your world. You are a performer. You don't like an audience yet, but maybe one day. I see something there – something in you. I will do my best to nourish it.
At 7, your faith is strong. Your prayers are sweet. Your love and heart for Jesus is real. You want to get baptized as soon as we can go back to church. You've been waiting so patiently. Sweet girl, I pray a million prayers for you and I won't ever stop. But, my biggest is this – stay close to God. Keep that faith shining bright. Life will get hard. Your burden will be lighter and your joy will be greater. Stay close.
Dear child. Happy 7th birthday. You are my greatest love. My greatest gift. Your brother. Your dad. Our family. I look at you and know. I have all I've ever wanted. You are all I've ever wanted. Wherever life takes you. That will be a truth you can hold forever. Our invisible string. It ties me to you. Always. Always.
Happy Birthday! Love, Mommy