Holiday Decor
Well y'all, it's November! It's time. It feels kind of like being let out of the gates and the race is on, doesn't it?! While some of you are already decking the halls, I'm going to stay fully Team Fall… at least for a couple more weeks. 😉 But that doesn't mean that I'm not in the Christmas Spirit. I've been scouting out gift ideas and making lists for weeks now. I've got a good start on shopping and I have my gift wrap all planned out and purchased (I know, I know, but I love the gift wrapping part!)
AND, I've been rounding up lots of ideas for you!
First things first – the decor! Here are a few holiday decor items that I either own and love … or that I've been eyeing (for ya'll or for me!)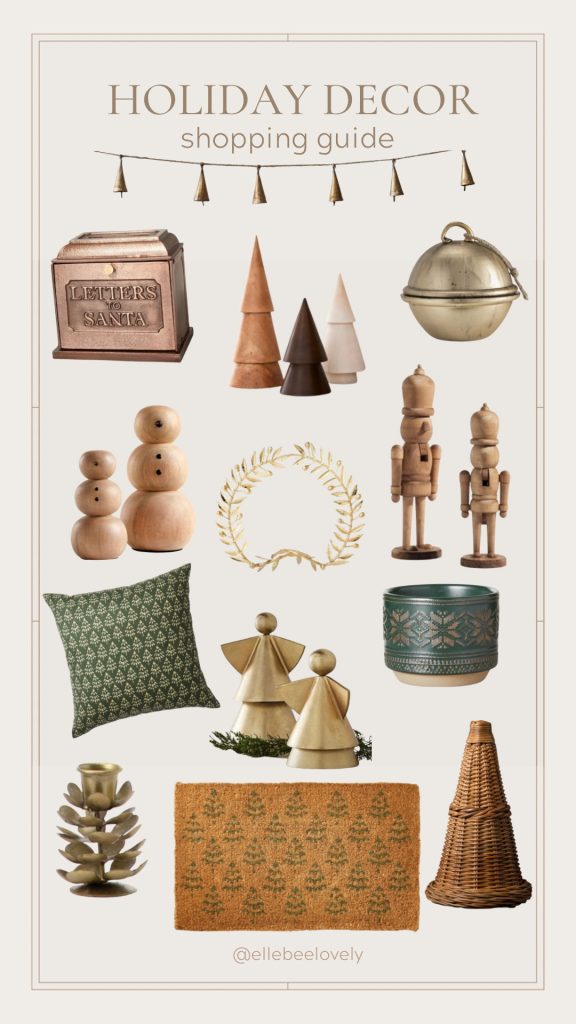 Brass Bell Garland – I just ordered this garland! I love the simplicity of it and plan to hang it on the mantle in our bedroom.
Metal Mailbox – This Hearth and Hand copper mailbox is so cute. I think it would make a great edition to any entryway!
Stacked Wood Trees – Add a little rustic, woodsy element to your decor with these stacked wooden trees.
Bell Candle – I like to sit my gold, bell-shaped candle right on top of a stack of books. It's a subtle nod to Christmas.
Wooden Snowmen – Minimal and charming … I think these cutie snowmen are so fun.
Botanical Decor – This gold wreath would add a festive touch to any bookcase.
Wooden Nutcracker – I love the natural, wood take on these classic nutcracker soliders.
Block Print Pillow – Who doesn't need a Christmas pillow or 5?!
Brass Angel – I picked one of these modern, brass angels up last year and it added the perfect extra twinkle to my kitchen counter!
Pinecone Candle Holder – I haven't clicked "add to cart" just yet, but I probably should because I keep eyeing these iron pinecone candle holders. Kinda love them.
Doormat – Gotta have a Christmas themed doormat. I love the simplicity of this one.
Wicker Tree – This textural tree gives a unique, organic feel to holiday decor.
Need more ideas? Tell me – what are you on the hunt for?
Happy Holiday Decorating!

Shop This Post