Easter Basket Gift Ideas for Girls
EBL's Easter Basket Gift Ideas are here! Whoop, whoop! 🤗
When I put together Easter baskets, I try (my best) to do so with intention. I use these baskets as an opportunity to gift my kiddos items that they actually need for Spring or Summer. This way, I'm checking multiple boxes all at once. My kids are getting full, fun baskets and I'm purchasing items that I would likely be purchasing anyways! Win, win. I mean, kids are needy little guys aren't they?! Each year they need new bathing suits, new sandals/slides, goggles, etc, etc, etc. Throw these items in their baskets! I also typically include a few "wants" or toys that I know they'll use in the pool, at the beach … or just a cute little Easter-themed something. Lastly, I toss in some candy and call it day!
Today, I have a whole round up of gift ideas for those sweet, little ladies in your life …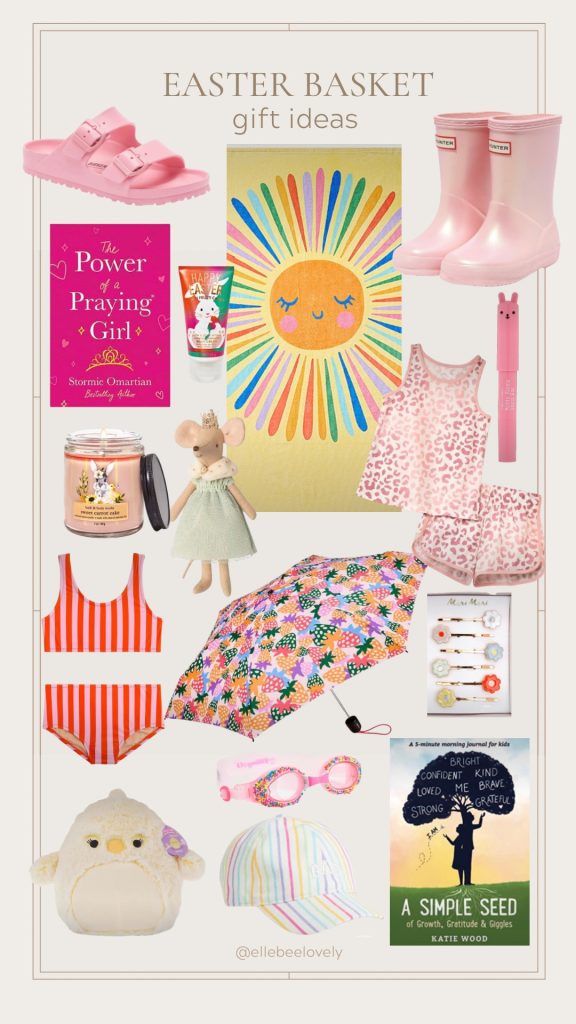 Links: Birkenstock sandals, beach towel, Hunter boots, The Power of the Praying Girl book, Happy Easter lotion, pajamas, lip gloss, Easter candle, Maileg Mouse, bathing suit, umbrella, hair pins, Squishmallow, goggles, hat, A Simple Seed book
Happy Easter-Basket-Making!

Shop This Post