Easter Basket Gift Ideas for Boys
I'm back today with more gift ideas for you! If you missed the Easter Basket Gift Guide for Girls, click here to check it out.
Today we have a round up of Easter Basket Gift Ideas for those fellas in your life. I generally find them a tad harder to shop for then the girls … and that applies at any age. But, I follow the same philosophy – shop for what they need for Spring and Summer first … then throw in a few fun items. And, don't forget a book or too! This particular round-up is geared toward those tween/teen boys (because that's who I'm shopping for and I'm all at about keeping it simple), but I think it works for boys of all different ages just as well.
Let's go!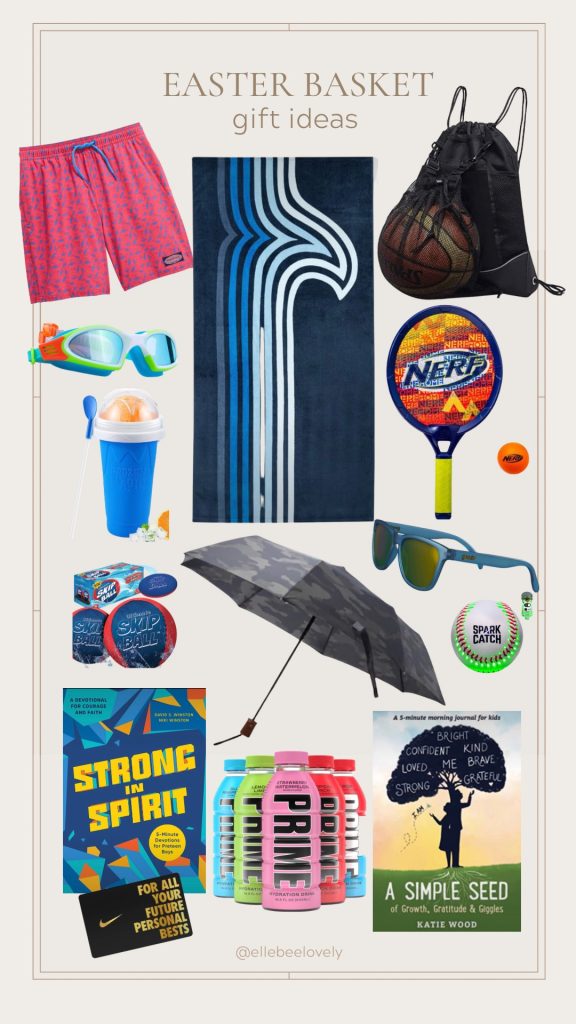 Links: swim trunks, beach towel, basketball bag, goggles, Nerf tennis set, Slushie Maker cup, umbrella, sunglasses, Skip Ball, Spark Catch baseball, Strong in Spirit book, Prime, A Simple Seed book, Nike gift card
Alrighty, I hope something on one of these guides sparked an idea for you! Happy shopping and soon enough … Happy Easter! In the meantime, what other Easter items are you still on the hunt for? What can I help you find?

Shop This Post