Mother's Day Gift Guide
Mother's Day is NEXT Sunday, May 14th, Peeps! This is a day that always sneaks up on me. You?! I just … don't plan ahead for it. And, honestly, I tend to lean away from gifts on these days and lean in toward time together if possible. That looks different each year but might involve brunch, lunch, planting flowers, a tea party, etc. Or sometimes it looks like something sweet and sentimental – a homemade gift from the kids to their grandmothers. It's what I want too … those sweet "All About Mom" papers from the pre-school years. Be still my heart. Or the poem that my son wrote and pasted on a picture frame a couple of years a year. This is the good stuff. Give me the good stuff.
While it's not a big gift-giving day in my family, it IS for some and I've rounded up a few great gift options for the women in your life — for Mother's Day — or for a birthday — or really, for anything that you need a gift for. I have you covered! And, you just may find a little something you want for yourself too 😉 …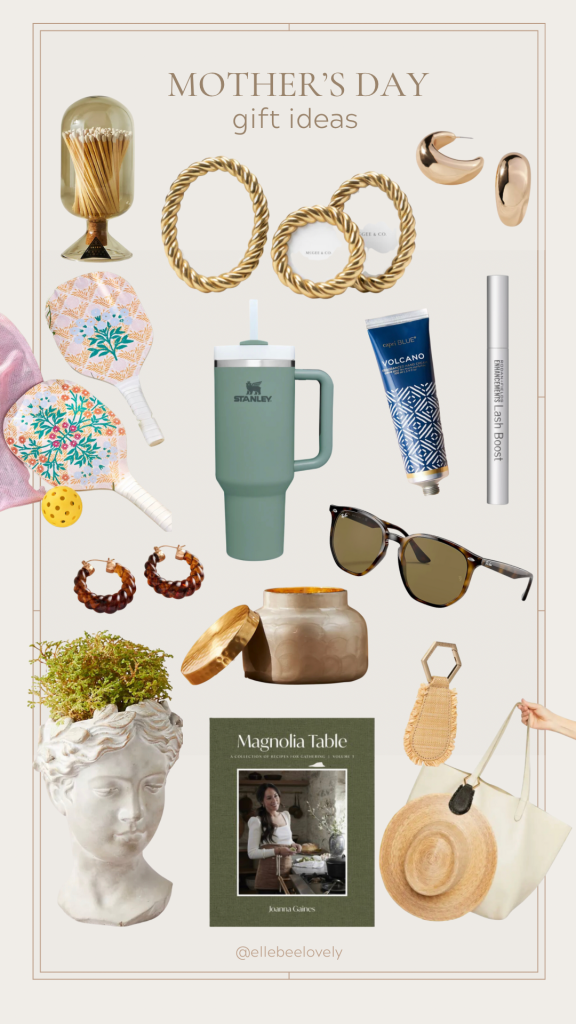 Links: match cloche, glided rope frames, hoop earrings, pickleball set, Stanley tumbler, Capri Blue Volcano hand cream, Rodan & Fields Lash Boost, resin hoop earrings, Capri Blue candle, Ray Ban sunglasses, Grecian bust pot, Magnolia Table Vol. 3 cookbook, hat holder
Happy gift-giving, happy love spreading, happy kindness sprinkling and Happy Mother's Day!

Shop This Post