Halloween – Home Decor
I know, I know. I'm sharing Halloween. Eeek! I DO feel a little sheepish about it. But, y'all. It is what it is and when it comes to Halloween home decor – it's a "get it before it's gone" type of situation.
So, here we are. The first day of September. Grab your coffee … add a little pumpkin spice, if that's your thing … and let's shop. I don't care what the temperature is outside, you now have permission to light your favorite fall candle and ease (or jump head first) into all things fall.
We'll be covering a lot more FALL content over the next few weeks. Yay! I'm so ready. In the meantime, if you missed Early Fall at Target, but sure to check it out for my picks from the newest Studio McGee and Hearth & Hand Collections.
But, today, we're talking Halloween 🤗. Admittedly, I've never been big on Halloween home decor. I love the warmth of fall, but not so much the spooky, dark (and honestly, kinda cheesy) vibe that comes with Halloween decor. Maybe it's because it comes and goes so quickly? I like my seasonal decor to be able to stay out more than a few weeks at a time. I'm trying to change my ways. I've been slowly adding a few small touches over the past couple of years and I like it. I still keep it very simple. Yet, even the littlest Halloween addition tends to make it feel more festive … and it makes my kids smile. Anything for those two!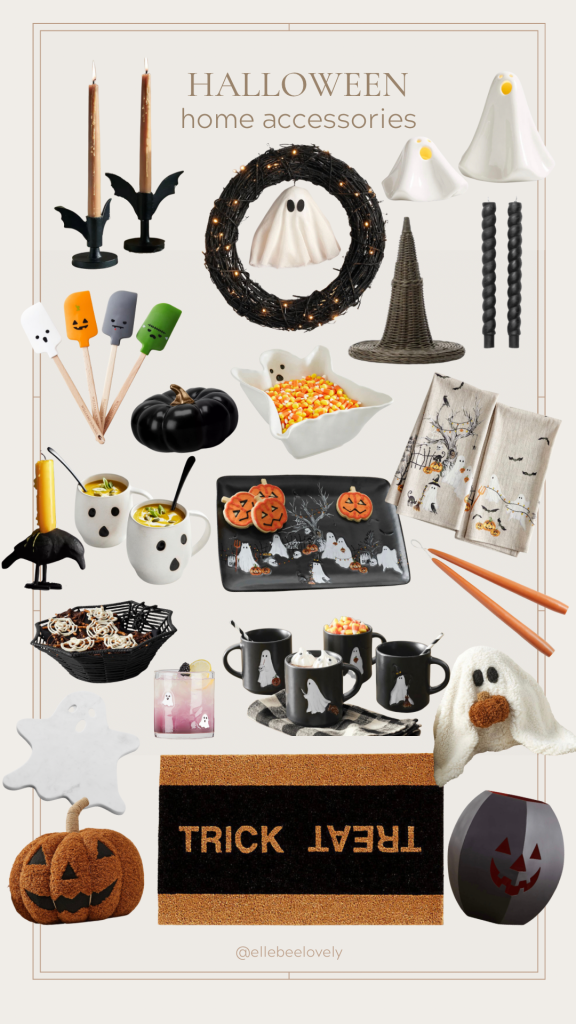 Links: bat wing candle holders, wreath, small ghost, large ghost, monster spatulas, black pumpkin, ghost serving bowl, wicker witches hat, black twisted taper candles, crow candle holder, ghost mugs, serving platter, tea towels, bronze taper candles, spiderweb treat bowl, ghost double old-fashioned glass, set of 4 mugs, ghost pillow, marble ghost cheese board, jack-o-lantern shaped pillow, trick-or-treat rug, pumpkin lantern
Who knows, adding a few Halloweenie touches to our homes might just make it all feel a little more fun. And, we could all use a little more fun, couldn't we?
"Halloween is not only about putting on a costume, but it's about finding the imagination and costume within ourselves." ~ Elvis Duran
It's too early to wish you a Happy Halloween ;). Instead, I'll wish you a Happy September and a Happy Fall! Have fun shopping!

Shop This Post