Fall Home Decor
If your home were a season, what would it be? My home is definitely a fall! But, I think that's because I am a fall. The colors I'm drawn to are warm tones … greens, deep blues, tans, creams, camels, rusty reds and burnt oranges. I like to wear these colors and I tend to use them in my home as well.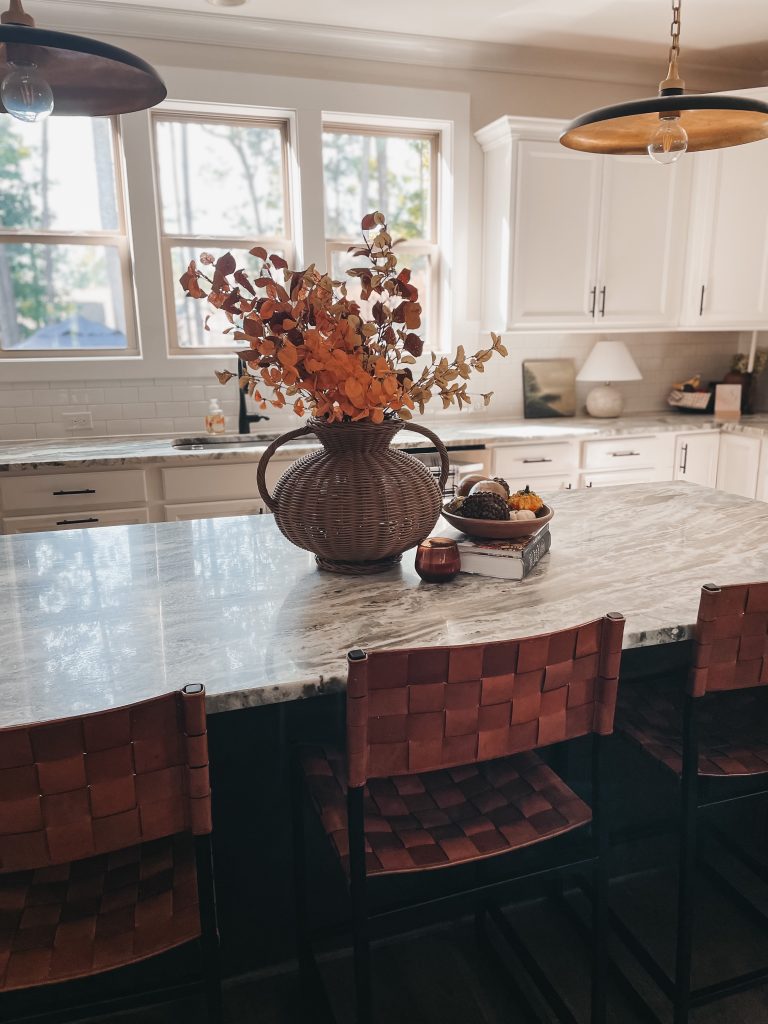 When it comes to seasonal decor, as a rule, I take a pretty subtle approach. This isn't everyone's cup of tea. I get that. I just struggle with overwhelm and a lot of "extra" makes me feel more anxious. It took me years to recognize this, but now that I'm aware of it … I can be a lot kinder to myself by keeping it simple. It feels natural, I breathe easier and it doesn't take a lot of time. So, what does this look like? For me, it means rotating and swapping seasonal pieces. Bye summer florals, hello fall stems. So long summer scents, hello to my favorite fall candles. I also rotate a few seasonal decor pieces too … my ceramic bird goes away and my favorite Blenko glass pumpkin comes out. I dust off some of my copper items and move them out for display. I rotate my coffee table books to showcase the ones with fall colors. I add a warmer toned table runner or table cloth to our dining room table. I break out our "teddy blanket" and switch out one of our pillow covers to a warm plaid. I swap sea shells for acorns in a brass bowl in the entry way. I do put out a pumpkin or two, but I've scaled way back on that over the years too.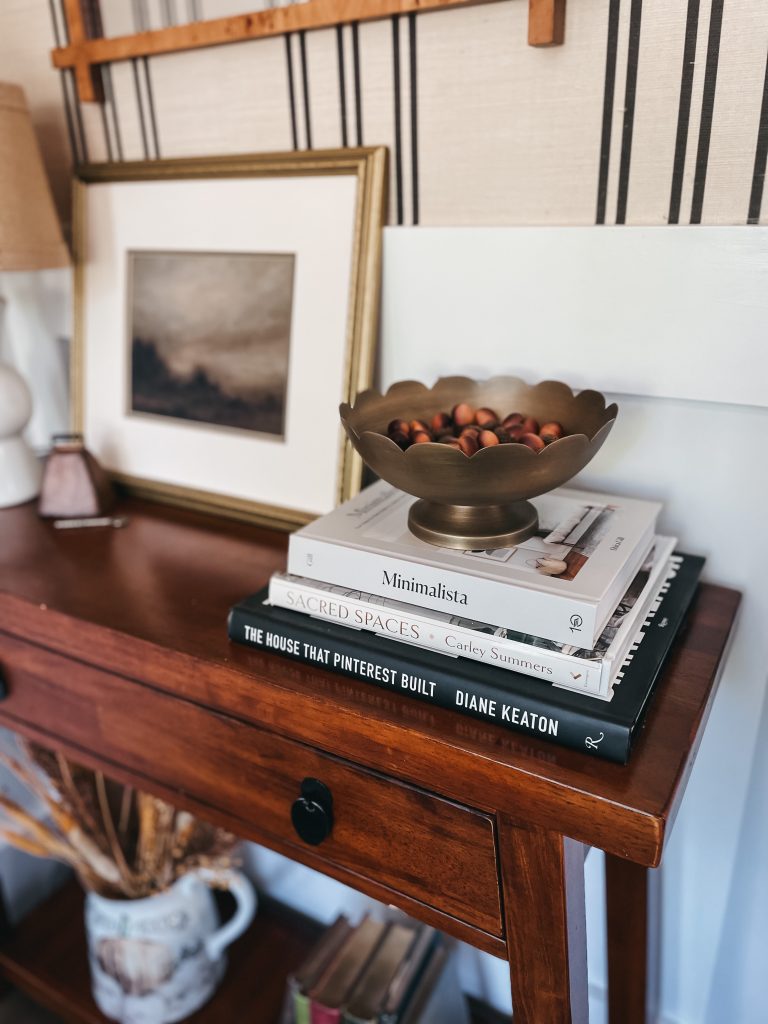 Today's round up is all about these subtle nods to fall. Warm home accessories for the cozy months ahead. Enjoy, friends. And, happy fall … finally!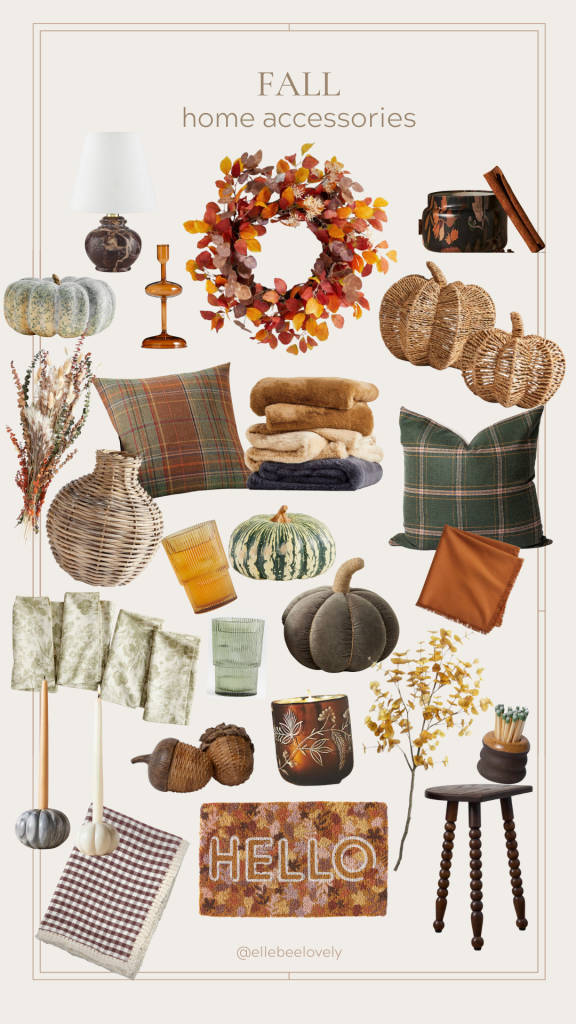 Links: mini lamp, taper candle holder, wreath, Capri Blue candle, faux pumpkin, woven pumpkins, eucalyptus bundle, woven vase, plaid pillow cover, faux fur blanket, plaid pillow, orange highball glass, faux pumpkin, velvet pumpkin pillow, cotton napkins, toile napkins, green highball glass, marble pumpkin candle holders, acorns, etched glass candle, eucalyptus branch, matchstick holder, tablecloth, doormat, stool
What is your favorite way to bring fall indoors?
I'll leave you today with a thought – when bringing fall into your home, consider your 5 senses. This is an easy way to add natural, subtle changes that reflect each season without feeling the need to go all out.
Creating a Season with your Senses
1. Smell – what are your favorite scents of the season? This can involve candles, diffusers, your Pura, sure … but it can also be about what's baking or simmering on the stove. Which brings us to …
2. Taste – soup, chili, pumpkin lattes, warm bread. What do you enjoy? What makes it feel like fall to you?!
3. Touch – think texture! What makes you feel cozy? Textured, furry, nubby, warm blankets make a great addition to a fall room. Fuzzy slippers at the foot of the bed. Flannel pajamas. Another thing that you can "feel" is a fire. Inside or out, one of my very favorite things about fall/winter is a fire.
4. Sound – What do you want your home to sound like this season? Consider creating a playlist just for fall. Switching up your tunes can create a different mood and usher in a new season. Other sounds might include simmering soup or crackling fire.
5. Sight – Sight tends to be the first thing we think about when it comes to seasonal decor … but what if we put it last? What if we focus on the other senses first? We may find that we need to add in less of all of that tempting fall decor that I just shared above (lol). Either way – sight is where I focus on changing out a few of those main things that you see – like pillows or floral stems. A few statement pumpkins. You may find that it really doesn't take much to usher fall in to your home.

Shop This Post