Up Next – Middle School
Pen to Paper.
Breathe in. Breathe out.
Become one with your senses.
Feel it. Write it.
This is my way.
Yet. It's not working.
Pen to paper. No words come.
I close my notebook and pretend not to understand. But, I do. I understand why the words don't come. I didn't breathe in or out. I didn't become one with my senses. I didn't allow the feelings to come. I didn't want them to come. I wasn't ready. I'm not ready.
We've come to the end of another chapter. One that I thought would last longer. It was too short. Too fast. I feel … off balance. Unsettled. I'm unsure about what comes next. Unsure what to expect. We've never been here before. It's a new territory.
Well, actually, I have (personally) been here once before …
Middle School.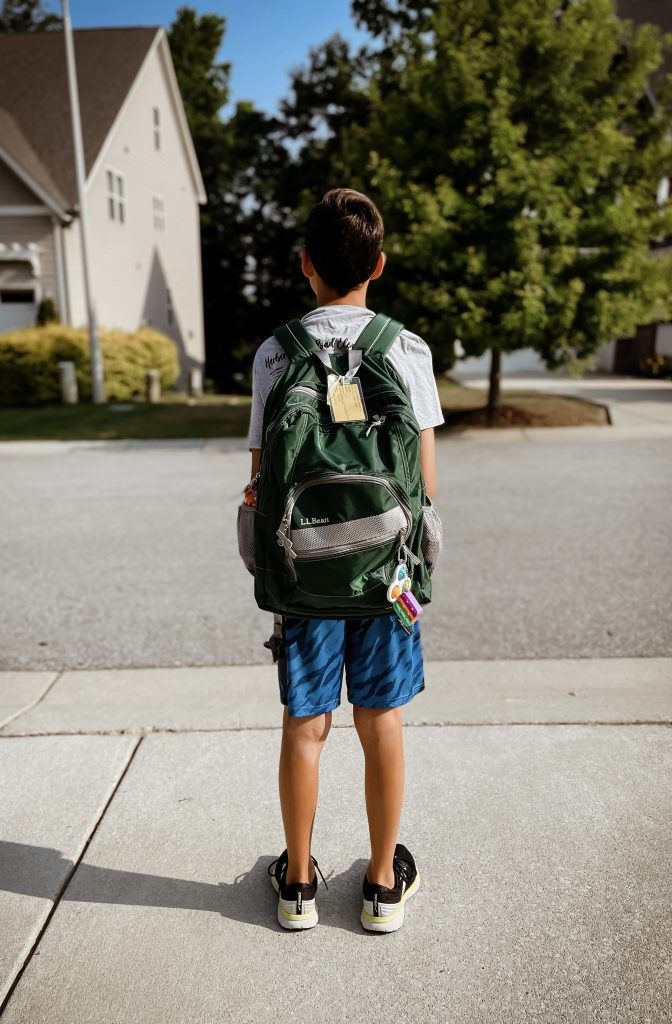 The 5th Grade is wrapping up for you. My boy. My first. It all went so fast! I know every parent everywhere says it, but really. It was six entire years. So. Shouldn't that feel longer?! How did we get here so fast?
I know why I'm so hesitant to let myself feel it. I'm afraid … that what I will feel when I allow it to come will be … grief.
So we go about our days. Go to all things. All the sports. All the activities. Work. Stay busy. Don't stop. Don't reflect. Don't feel it. Don't grieve it.
Elementary School.
These have been sweet, sweet, precious years … full of smiles, laughter, silliness, unexpected surprises and challenges.
They started with you jumping off the bus and into my waiting arms … and they end with you walking into the house after school, no longer needing me at the bus stop, and straight into the pantry without much in the way of a hello.
They started with us learning your Letterland characters and reading your book packets together in bed each night … they end with me not understanding anything about what you are doing in math.
Field trips, Lunch Bunch and visits to the classroom. Fun runs, field days and sweet friendships. Art projects and Mother's Day gifts. The "Wax Museum", your "business" selling key chains and Valentine's Day exchanges.
Then. Right smack in the middle of a great 3rd Grade year. The Pandemic. It changed everything. No more parties. No more field trips. No more visits to your class. That was the end of all of that for us.
If only … if only I had known. Our last field trip together – I've tucked it away in "a little pouch of momma regret" and placed it in the back of my heart. I didn't go. I canceled. I went to the spa with a friend. I chose a day to myself. I was already signed up to volunteer at the next field trip. I just knew there would be a next time. Plenty more. But, there wasn't a next time. I missed our last field trip together assuming we'd have so many more. There weren't any more. Not in 4th Grade. Not in 5th Grade. There were no more field trips and my heart still burns every time I think about it. 
It should feel like I got more time with you, not less, because the truth is … I did. You were home, attending school virtually for a full year. I DID have more time with you. Yet. Somehow losing school years feels like lost time. I can't help but wish it could've all been different.
Now that I've opened myself up to it … the feelings come rushing in … fast and hard. They smack against me. It hurts somewhere deep within. Clarity comes and I understand why saying goodbye to elementary school feels so incredibly sad. It feels like I'm saying goodbye to your childhood. I'm not ready. I'll never be ready for that. I just … thought there'd be more time.
I thought you'd have more freedom to run and explore and be wild.
Did you?
I thought there'd be more time for art and creativity and imagination.
Was there?
I thought you'd ride your bike to the moon, do a thousand cannon balls and catch a zillion lightning bugs.
Maybe you did?
I just thought there would be more of it all.
Will there?
Middle School.
I worry … because I know you'll grow up.
I know you are supposed to grow up.
But, I want to keep you mine.
Forever wild. Forever free.
Forever mine.