Virtual School + Life Right Now
"I just wanted you to know that this is me trying … at least I'm trying."
Taylor Swift sings in the background and her words cause me to pause.
Deep breath.
"I've been having a hard time adjusting; I had the shiniest wheels, now they're rusting…"
"At least I'm trying…"
So, yeah, I've been having a hard time adjusting. Mostly, it's me. More me than them. My kids are actually doing okay. I would not say that they are thriving in this environment necessarily, but it's going a lot better than I expected. They aren't miserable. They are happy, even. There aren't too many tears. Not anymore.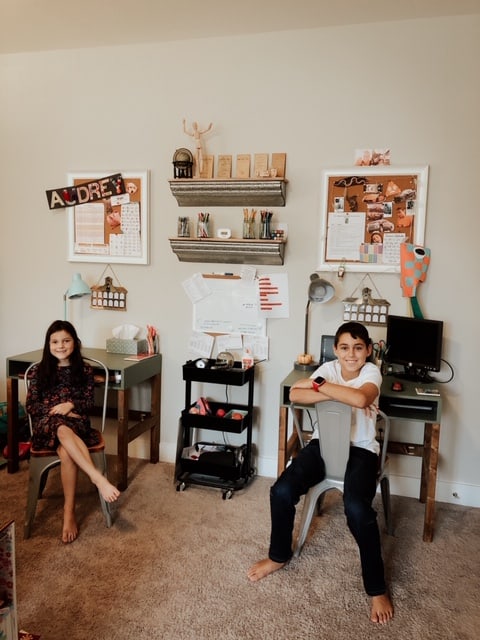 We just started Week 7 of virtual school and we've just about reached our first track out (we are year-round). This is 4th Grade and 1st Grade and school isn't supposed to be this way. I know this to be true. I watch them with their headphones on, fidgeting in their seats, staring at their computers. They are children, but they look like tiny office workers and it makes my heart sore. It isn't supposed to be this way. But, right now it IS this way. We are making the best of it. We are choosing to make the best of it. Honestly, they really are okay. The tears are fewer and fewer. The weeks are going smoother and smoother. They are smiling. They are OKAY! They'd rather BE AT SCHOOL, for sure … but still, they seem happy. They are enjoying it some, a little, maybe. Maybe. They are adjusting.
So, it's mainly me – left struggling to adapt – to catch up.
I know it's not about me – shouldn't be about me – isn't about me. Yet, for me, it feels about me. At least a little. I've become more and more aware that it's a struggle of SELF. I'm having a hard time setting aside myself, surrendering, being okay with it. It's a work in progress. I'm a work in progress. Do I feel selfish saying these words out loud? Yes. But, they are true. And, maybe I'm not alone. I thought things would be a certain way when Audrey started Kindergarten. I had something in mind. Something for me. Setting that aside has been harder than I expected. Surrendering myself, the things I wanted, the things I pictured, for the larger needs of my family, my children, their schooling – it's just been harder than I originally imagined. Yet … there is grace here. There is mercy. There is beauty. I feel it circling. Am I losing myself in this? No. I'm not. It's more of a re-centering, a side-stepping, a re-directing. I'm coming around. I can feel it. Maybe I'm having trouble adjusting, but I will get there. I'm getting there. I'll allow myself to be molded, refined. I'm trying to lean in. It's happening, whether I like it or not. Surrendering to it allows me to grow with it and through it. Fighting it just brings an unhappiness to us all. Surrendering to it is bringing peace.
Some things I've learned so far –
~ 1st Graders are definitely not meant to be on computers. They aren't meant to type. They aren't to open and close tabs or copy and paste. Their little hands just aren't meant for it.
~ Elementary school children aren't meant for this much screen time. They are meant for play. They are meant for connection and interaction and community. They aren't meant to be in a room alone with a screen. They aren't meant for dark circles under their eyes and blue light glasses. 
~ Families can thrive in a season of hard.
~ Joy is chosen.
~ Peace sometimes has to be fought for and sought after.
~ My selfish tendencies cause more grief than good.
~ Affirmations are important. Feed yourself good words. Feed your children life-giving words. Tell them – "You are God's; You are loved; You are Good." Tell them all the time.
~ Life is meant to be lived. Homes are meant to be lived in.
~ A lot of errands are invented. At least, by me. Almost anything can be ordered and delivered these days.
~ Self care can look like quiet coffee time in the morning and candle-lit showers are night. It doesn't have to cost a thing.
~ I need social media breaks. Often. I can't watch too much news. Those things can fuel anxiety in me.
~ I like being at home.
~ I love my family. But, I do need breaks away from them.
~ I'm constantly learning. But, I want to be a learner. I like learning.
~ Read. Read, read, read and read to your kids too!
~ I like people who make me laugh. And, in heavy times, laughter is life-giving.
~ Separation is hard after being together for so long.
~ I need God always. Every day.
And, that's life these days, y'all … our new normal. We're adjusting.
Also. Folklore. On repeat. Well, done, Taylor. Well done.